FIFTH ANGEL – Fifth Angel [Metal Blade Records Digipak remastered reissue] (2018)
Requested by many and accompanying the new FIFTH ANGEL really good comeback album, here's the 2018 Metal Blade Records Digipak remastered reissue of the band's cult debut LP "Fifth Angel", featuring the original cover artwork.
Fifth Angel should be the most underrated American Melodic Metal band from the '80s releasing two superb albums in the 2nd half of the decade but sadly both went largely unnoticed at the time, when the Rock audience in the US was more focused in hair metal / melodic hard rock.
Back in '80s I used to buy Kerrang! magazine religiously. The best bit was the Flexi-Disc, attached to the front which gave us some great bands to love (back in these pre-internet days that's all we had).
One of them had a track by Fifth Angel on. Their name sticks out in my mind because they were from Seattle like Queensryche and played melodic metal a little bit like them at their origins.
Fifth Angel were the next big thing, back then. They were worth the hype too. I can remember buying their first album on import LP in a record shop that is long gone.
This Fifth Angel self-titled debut album was initially published by the now legendary Shrapnel Records in 1986. The band got enough success to get the attention from major label Epic Records which signed them, re-mixed the whole thing and re-released the disc in 1988.
"Fifth Angel" is a killer rocking album from start to finish.
This is pure American Metal / Hard at its best, full of melody, superb musicianship and awesome production. Think early Queensrÿche, Dokken, Impellitteri and early Scorpions blended together, punchy yet still very commercial and appealing.
James Byrd's guitar work is simply outstanding delivering melting riffs and emotional melodious solos, while Ted Pilot a complete vocalist with sheer emotion.
We have monster drummer Ken Mary as well, who went on to hit the skins for House of Lords, Alice Cooper and many more.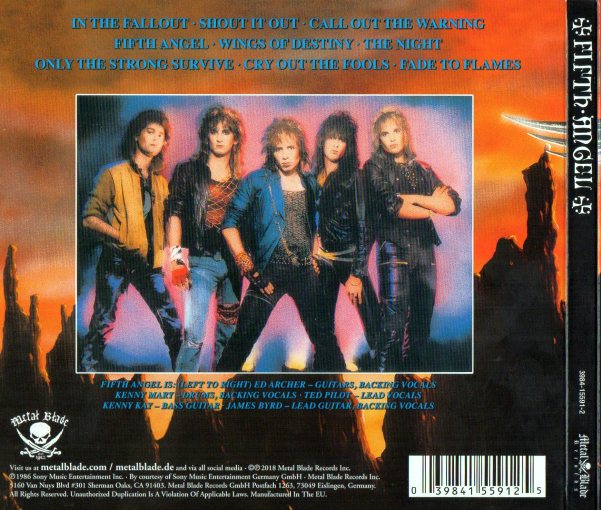 This "Fifth Angel" reissue sound million bucks. It has been more than 3 decades since Fifth Angel's debut was released, but the album hasn't lost one inch of its power.
I dare to say this is a must have for any US Metal / Hard Rock (and related) fan. Trust me, you'll be pleasantly delighted.
Highly Recommended
You've seen it first here, at 0dayrox
01 – In the Fallout
02 – Shout it Out
03 – Call Out the Warning
04 – Fifth Angel
05 – Wings of Destiny
06 – The Night
07 – Only the Strong Survive
08 – Cry Out the Fools
09 – Fade to Flames
Ted Pilot – vocals
James Byrd – lead guitar
Ken Mary – drums
Ed Archer – rhythm guitar, bass
Randy Hansen – bass
BUY IT !
www.amazon.com/Fifth-Angel/dp/B07BYWVM77
.