SEA HAGS – Sea Hags [Rock Candy remastered +2] Out Of Print
Unknown by many but much sought after by US hard rock fans and collectors, here's the requested Rock Candy Records remastered reissue of SEA HAGS self-titled debut.
A cult band that were burned out after one album and tour, Sea Hags were the epitome of the 'sex, drugs & rock n' roll' drama. Self-destruction at its best. But darn, they were good.
Formed in San Francisco, California, by Ron Yocom (vocals/guitar), Chris Schlosshardt (bass) and Greg Langston (drums), the Hags brought a certain (alcoholic) swagger to the late '80s, with one foot in the vapour trail of Guns N' Roses and the other in the classic bluesy hard rock of early Aerosmith.
Metallica's Kirk Hammett produced their demo, and Ian Astbury of The Cult showed interest in producing the full-length debut. However it would Mike Clink (who had just scored big with Guns N' Roses) who would try and harness the band's music.
With Clink at the helm, the man who had chastened Axl, Slash & Co. into delivering one of the all-time great hard rock debuts, this one-off wasn't without its fair share of drama; personnel were replaced, songs heavily scrutinised and instruments re-learnt, but the end results not only speak for themselves, but continue to shout from the rooftops almost 30 years down the line.
During the recordings, session guitarist Kevin Russell was brought in and Langston replaced by ex-Legal Weapon skin-pounder Adam Maples. Frankie Wilsey was named the permanent lead guitarist in November 1988.
The debut LP and tour was postponed due to Yocom and Schlosshardt's drug indulgences, and the recording label (Chrysalis) helped them get clean before sending them out to promote the album.
However it was short-lived, as Schlosshardt died of a heroin overdose in 1991, thus ending the legacy of the Sea Hags. Maples almost replaced Steven Adler in Guns N' Roses, and Wilsey (using the surname of Wilsex) joined Stephen Pearcy and Fred Coury in Arcade.
What we have here is the glorious culmination of nearly a decade of struggle – the kind of record that should have catapulted the four musicians to seriously giddy heights.
They had a major deal (with Chrysalis Records), 'name' supporters in the industry, plus critical acclaim from the media that mattered, but a very public fight with a variety of largely illegal substances would ultimately drag them under.
Their brand of dirty, street rock n' roll was not far removed from the sound of L.A.'s kings of the time like Guns N' Roses, L.A. Guns or Motley Crue, but while those bands incorporated some of punky attitude, Sea Hags relied more on classic rock riffs, and to a lesser extent swagger of the early Aerosmith.
On first listen, "Sea Hags" does indeed sound something like Motley at their druggiest, borrowing Slash's very best Joe Perry licks from the Appetite For Destruction record. And you know what? That's not a bad thing.
Ron Yocom's voice drips sleazy and guitarist Frankie Wilsey slithers his way through these eleven @ss-kicking tracks.
Opening song "Half the Way Valley" definitely ranks among the higher echelons of US sleazy metal, and equally gritty "Back to the Grind" isn't far behind.
There's a catchy riff-driven stomp in "Doghouse", and great melodic rhythms on "Miss Fortune".
They even managed to squeeze out "Under the Night Stars" for the soundtrack of the popular horror franchise A Nightmare On Elm Street.
These Seattle boys (by way of San Francisco) keep it rocking from start to finish, only simmering down for the smoky instrumental "Bunkbed Creek".
On this remastered reissue we find two previously unreleased tracks from the Kirk Hammett produced demo, interesting stuff to taste Sea Hags' primal sound.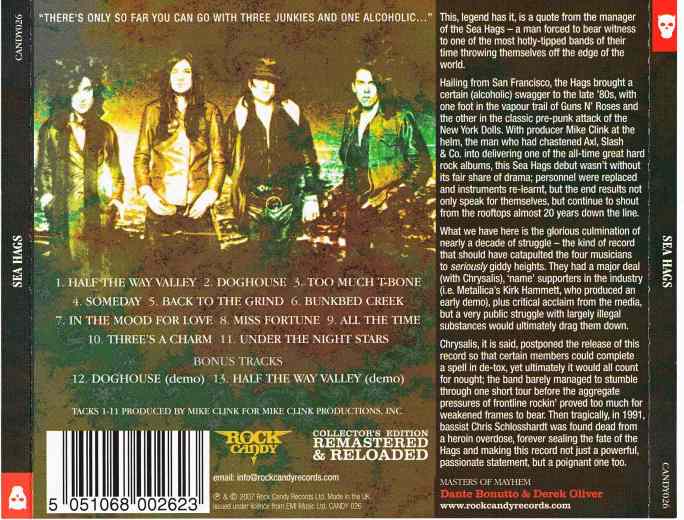 A flammable album plenty of swagger, "Sea Hags" is the perfect snapshot of the LA Sunset Strip late '80s scene.
The 4,000 word story of the making of the album, previously unpublished photos, all spread out over a super 16 page full colour booklet is particularly interesting showcasing the excesses from a band, at the time, tagged as 'the next Guns 'N Roses'.
This Rock Candy remaster has become a rarity, not listed at the label's website anymore.
Highly Recommended collector's stuff
You've seen it first here, at 0dayrox
01 – Half The Way Valley
02 – Doghouse
03 – Too Much T-Bone
04 – Someday
05 – Back To The Grind
06 – Bunkbed Creek
07 – In The Mood For Love
08 – Miss Fortune
09 – All The Time
10 – Three's A Charm
11 – Under The Night Stars
BONUS TRACKS:
12 – Dog House [Demo – Unreleased]
13 – Half Way The Valley [Demo – Unreleased]
Ron Yocum – lead vocals, guitar
Chris Schlosshardt – bass, vocals
Adam Maples – drums
Frankie Wilsey – guitar
Kevin Russell – additional guitar
BUY IT !
www.amazon.co.uk/Sea-Hags/dp/B000MNNRXC
.