ICON – An Even More Perfect Union [Limited Edition, Numbered] Out Of Print
Some weeks ago we featured here the first two ICON albums in its remastered form, now as requested, more music by this really good American hard rock band hailing from Phoenix, Arizona.
"An Even More Perfect Union" is Icon's third album, recorded after their recording label dropped them, and finally released some years later.
When awesome original lead vocalist Steve Clifford quit the band after the recording of Icon's second album, the group auditioned a dozen of potential singers looking for the right replacement.
When Jerry Harrison was chosen, the new Icon then contacted their label Capitol Records in an effort to persuade them that they were ready to continue. But the company drop the band. Without a deal, Icon set about resurrecting their career and took it upon themselves to self-finance their third album.
Recorded at their native Arizona and produced by leader Dan Wexler, the titled "More Perfect Union" was self-released locally on cassette only on 1987, containing 10 tracks.
Its intention was introduce the new members and a refreshed Melodic Rock / Radio friendly style to the fans and re-establish them for hopes of being signed by a new label. But nothing happened, and the tapes, shelved.
A couple of years later Icon got signed by Megaforce / Atlantic and released a new album ('Right Between The Eyes') but as the musical approach was harder, none of the songs from "More Perfect Union" were used.
Thanks to the action of a rabid fan group, this 'lost' Icon album was properly released on CD for the first time in 1995, re-entitled "An Even More Perfect Union" including 7 previously unreleased tracks: 4 songs from the same recording sessions not included on the cassette, 2 songs written in preparation for their third major label release ("Right Between The Eyes" 1989) and a melodic rocking version of the classic Christmas song "Little Drummer Boy" recorded in the second half of the Eighties.
"More Perfect Union" was the natural evolution of this kind of bands circa '86 / '88: melodic rock / AOR, radio-friendly tunes with catchy melodies and a polished production sound.
You may like Icon or not but you can't argue that they have done the same record twice.
Full of keyboard fills and synth layers courtesy of various session players, this album has a really good production for an indie, and the '95 remaster job from the old tapes by Steve Escallier (who originally produced and engineered the album with Wexler) is more than satisfactory.
I can't recommend one track, all are good, I'm a sucker for this US '80s melodic rock / fluffy AOR style and for this band.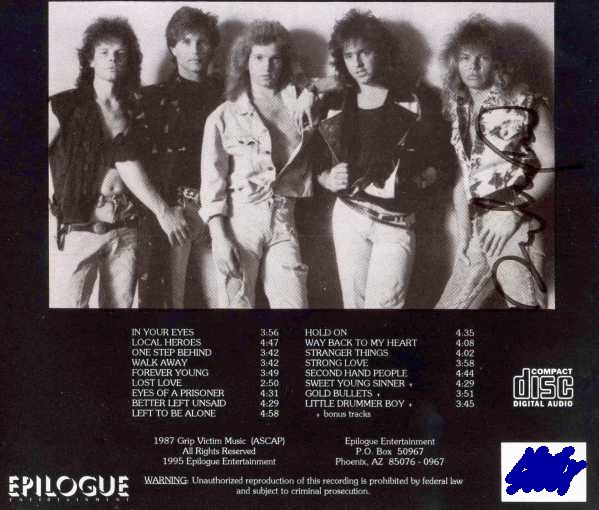 "An Even More Perfect Union" was pressed in limited quantities, each one signed / numbered, and now fetch ridiculous prices at auction sites ($1,666 at Amazon right now).
There's also a bootleg 2 on 1 CD (together with Icon's previous album 'Night Of The Crime') but due to the lack of physical CD space only features 12 tracks from 'More Perfect Union'. Recently (2009) a second reissue was released by a small label, also a fairly limited edition, and has become out of print as well.
A melodic rock collectible – Highly Recommended
01 – In Your Eyes
02 – Local Heroes
03 – One Step Behind
04 – Walk Away
05 – Forever Young
06 – Lost Love
07 – Eyes Of The Prisoner
08 – Better Left Unsaid
09 – Left To be Alone
10 – Hold On
11 – Way Back To My Heart (Bonus Track)
12 – Stranger Things (Bonus Track)
13 – Strong Love (Bonus Track)
14 – Second Hand People (Bonus Track)
15 – Sweet Young Sinner (Bonus Track)
16 – Gold Bullets (Bonus Track)
17 – Little Drummer Boy (Bonus Track)
Guitar – Dan Wexler
Guitar – John Aquillino
Bass – Tracy Wallach
Drums, Electronic Drums – Pat Dixon
Vocals – Jerry Harrison
Keyboards, Programming – Mark Seagraves
Keyboards – Mark Prentice
Synthesizer – Kevin Stoller
TRY HERE:
www.amazon.com/Even-More-Perfect-Union/dp/B000U0S9Y4
.