MIKE TRAMP – The Bootleg Series [Private 7-CD Box] Disc 1 STUDS – *Exclusive*
Today we are presenting a must have collectors item: MIKE TRAMP's "The Bootleg Series", a private 7-CD Box collection released some time ago in a very, very limited quantity only via Tramp's website.
This Box includes all Mike Tramp recordings since his early days with STUDS, then DANISH LIONS, WHITE LION'S pre-production / unreleased stuff, and more.
The name "Bootleg Series" is just to give the release some 'charm'. I assure that the sound quality is not 'bootleg' at all, but mostly, excellent, first rate.
Disc 1 is a little gem; Mike Tramp's first band in Denmark STUDS and their self-titled debut originally released 1981.
Those who think they know the story of Mike Tramp might have overlooked this one.
This is in fact Tramp first band Mabel, re-named to Studs after the spiky chrome things in leather jackets and wrist bands, for the release of the LP .
Mike wrote all the songs, and in his own words; "I wanted to be AC/DC but failed!" But it is clear in this recording that USA was my goal and that I wouldn't stop before the day I would be the singer and songwriter of White Lion".
The album was recorded in Madrid, Spain 1981, and become a rarity over the years.
This is the first time to appear on CD, remastered by Tramp himself, including two previously unreleased songs from the sessions
A collector's item.
01 – Rock You Tonight
02 – She's Gonna Rock You
03 – Girl You Gave Yourself Too Fast
04 – Lookin' For A Feelin'
05 – Take Me Home
06 – The World Is Rockin'
07 – We Will Make It Through The Night
08 – I'm Back Again
09 – He's Always Lonely
10 – When Rock 'n' Roll Was Born
11 – Bring It On Home
12 – Street Girl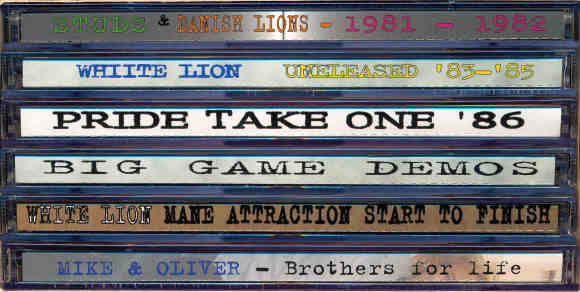 Sold Out
.