STAY TUNED (A Project By Bernhard Welz) – Stay Tuned (2018)
"STAY TUNED" is the brainchild of Austrian drummer BERNHARD WELZ who set up this All-Star charity project in 2011 with charity purposes, and growth to other dimension. Among the many luminaries participating we find Steve Lukather, Jeff Scott Soto, Don Airey, Tony Martin, Ian Gillian, Carl Sentance, Roger Glover, Steve Morse and the late Jon Lord, just to name a few.
As for the music within "Stay Tuned", it's pure Classic Rock / AOR / Melodic Rock, all arranged and recorded with an '80s feel. Most of the songs are originals composed by Welz.
You can rock out to 'It's Just A Long Way' featuring the underrated Carl Sentance on lead vocals, 'Young Free And Deadly' with the awesome Tony Martin, and the aptly titled 'I Don't Believe That Rock 'N Roll is Out'.
There's also some inspired ballads and soaring anthems. For the former there's 'Fading Away' and the nice piano driven 'Always Behind You', for the latter the choral-like vocal arrangement of 'Let The Star Shine On You' with Steve Lukather providing a sharp solo.
Some of these tracks already surfaced sometime ago in one way or another, while some are completely new, such as the must listen "Empathy" featuring Jeff Scott Soto on lead vocals and an unlisted guitarist who rips some awesome solos.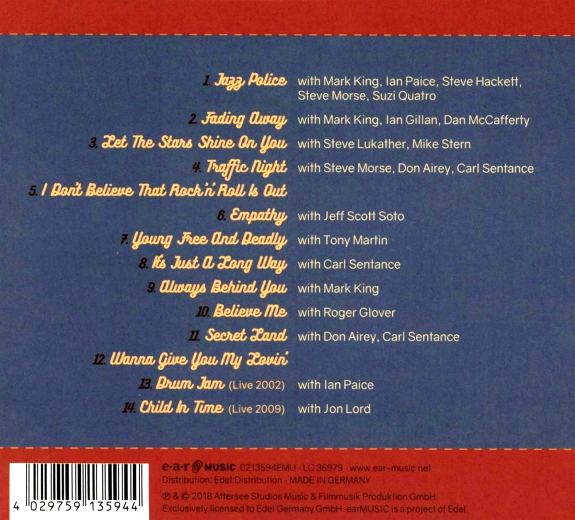 At the end we find a live recording of Deep Purple's 'Child In Time' done in 2009 featuring the late Steve Lee (Gotthard) on lead vocals and Jon Lord on keyboards. A must for fans of both musicians.
Bernhard Welz's "Stay Tuned" is a fine and entertaining album with a truly Classic Rock sound, sometimes with AORish / melodic rock moments and very good performances from all involved.
Some tracks are really, really good, and very well produced by Welz himself.
Highly Recommended
01 – Jazz Police (with Mark King, Ian Paice, Steve Morse, Suzi Quatro)
02 – Fading Away (with Ian Gillan, Dan Mccafferty, Mark King)
03 – Let The Stars Shine On You (with Steve Lukather)
04 – Traffic Night (with Don Airey, Steve Morse, Carl Sentance)
05 – I Don't Believe That Rock 'N' Roll Is Out
06 – Empathy (with Jeff Scott Soto)
07 – Yound Free And Deadly
08 – It's Just A Long Way (with Carl Sentance)
09 – Always Behind You (with Mark King)
10 – Believe Me (with Roger Glover)
11 – Secret Land (with Don Airey, Carl Sentance)
12 – Wanna Give You My Lovin'
13 – Drum Jam (live 2002) (with Ian Paice)
14 – Child In Time (live 2009) (with Jon Lord)
JEFF SCOTT SOTO (WET, Malmsteen)
IAN PAICE (Deep Purple)
JON LORD (Deep Purple)
DON AIREY (Deep Purple, Rainbow, Whitesnake, Ozzy)
ROGER GLOVER (Deep Purple)
STEVE MORSE (Deep Purple)
GUY PRATT (Pink Floyd, Roxy Music, Michael Jackson)
STEVE LUKATHER (Toto)
LEE SKLAR (all !)
MARK KING (Level 42)
MIKE STERN
DAN McCAFFERTY (Nazareth)
TONY MARTIN (Black Sabbath)
NEIL MURRAY (Whitesnake, Brian May)
SUZI QUATRO
STEVE LEE (Gotthard)
STEVE HACKETT (Genesis)
KLAUS SCHUBERT (No Bros, Schubert in Rock)
KAITNER Z DOKA (Ian Paice, Don Airey)
LAURENCE COTTLE (Alan Parson Project, Cher, Sting)
KATRINA LESKANICH (Katrina And The Waves)
NEIL TAYLOR (Robbie Williams, Chris de Burgh)
ERNESTO GHEZZI (Zucchero, Eros Ramazotti, Gotthard)
CARL SENTANCE (Krokus, Geezer Butler, Persian Risk)
AITCH McROBBIE (Joe Cocker, David Gilmour)
MATT FILIPPINI (Glenn Hughes, Ian Paice, Don Airey)
CHRIS CHILDS (Thunder, Paul Young)
ROBBY MUSENBICHLER (Opus, Boney M, Fendrich)
ANDI BRUNNER
GERI MODER
FREDDY POTSCH
CHRISTINA LUX (Jon Lord Band)
NOTA BENE SYMPHONIC ORCHESTRA
PRE ORDER:
www.amazon.de/Stay-Tuned/dp/B07H64B7P
.