EXTREME – Extreme [Japan SHM-CD press] Out Of Print
As requested, here's the Japanese edition of EXTREME self-titled debut "Extreme", as part of the band's first three albums reissue series appeared some time ago. This is the only release on high-fidelity SHM-CD format, now out of print.
By the time they came to record their self-titled debut album in the winter of 1988 (released in March '89), Bostonian hard rockers Extreme were confident, integrated and primed to take on the mainstream.
The music inside this LP is a roller coaster ride of axe pyrotechnics and sing-along hooks.
Nuno Bettencourt was one of the best guitar talents to arrive on the scene in the late Eighties (maybe THE best). Like Eddie Van Halen or Vito Bratta, Nuno's rhythm guitar tracks alone were enough to electrify the ears. Tons of tasty flourishes, nasty squeals, and creative licks peppered his rhythm tracks. And the solos? Perfection of course.
Nuno also provided backing and harmony vocals to beef up the excellent work of lead vocalist Gary Cherone.
My favorite track is probably 'Mutha (Don't Wanna Go To School Today)' which features some mammoth riffing (in the Eddie Van Halen style) and an unforgettable chorus.
Other highlights include 'Teacher's Pet', 'Big Boys Don't Cry', and 'Play With Me' (a song famously used in Bill And Ted's Excellent Adventure movie).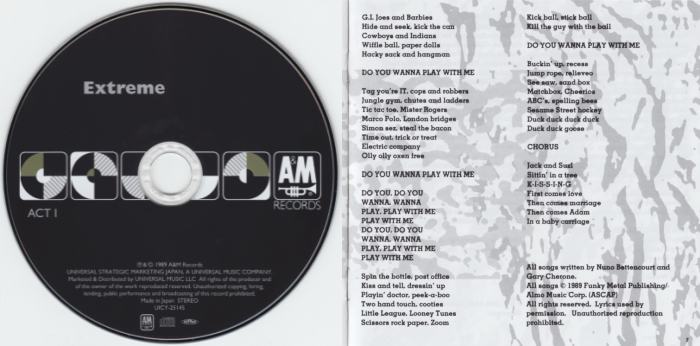 Lyrically, the "Extreme" album is a bit curious. Perhaps Extreme is a loose concept album of sorts, because almost all the songs are centered around being a kid, or more specifically, growing up as a boy in America.
The song 'Little Girls' is a little creepy though, because as far as I can tell it is about statutory rape – and that's the very first song on their very first album — what a brave way to start off a career.
Self-titled "Extreme" is a really strong beginning for Extreme, one of the very best bands to come out of the late Eighties in America.
The LP sold solidly, moving around 300,000 copies and persuading A&M Records that their young charges were in it for the long haul. Extreme soon repaid their label's faith, with their second album, 1990's Extreme II: Pornograffiti, going double-platinum.
Surprisingly, "Extreme" never has been remastered, so this not easy to find, out of print SHM-CD press is the best version you can get, delivering a much better output gain than the original CD release.
HIGHLY Recommended
Universal Japan ~ 【UICY-25145】
「 SHM-CD REISSUE SERIES 」
01 – Little Girls
02 – Wind Me Up
03 – Kid Ego
04 – Watching, Waiting
05 – Mutha (Don't Wanna Go To School Today)
06 – Teacher's Pet
07 – Big Boys Don't Cry
08 – Smoke Signals
09 – Flesh 'n' Blood
10 – Rock A Bye Bye
11 – Play With Me
Nuno Bettencourt – guitar, synths, piano, backing vocals
Gary Cherone – lead & backing vocals
Pat Badger – bass guitar, backing vocals
Paul Geary – drums, percussion, backing vocals
add. personnel:
The Lollipop Kids – background vocals
Rapheal May – harmonica
Out of print
www.cdjapan.co.jp/product/UICY-25145
.