EVERGREY – The Atlantic (2019)
Swedish progressive metal veterans EVERGREY are set to return with their eleventh studio album, "The Atlantic", January 25, 2019.
Spread thick with melody and following on thematically from its predecessors, 'The Storm Within' and 'Hymns For The Broken', closing out an oceanic concept trilogy, vocalist Tom S Englund and the band have indeed weathered some heavy storms to see this record come to light.
And their efforts were not for nothing.
Opener "A Silent Arc" is a multi-layered composition which takes the listener through both chaos and tranquility, a song that makes for a strong handshake to new efforts from Evergrey.
While it may have been an obvious single choice, it certainly wasn't the bands only potential front-runner. 'The Atlantic' is riddled with worthy contenders, perhaps none more so than "Weightless", almost melodic rock.
Englund and guitarist Henrik Danhage produce what is arguably the strongest grooves on the record in the form of the tracks infectious man riff, further capitalized on by Rikard Zander's haunting keyboard melodies and bassist Johan Niemann's undeniable grit and grumble.
Drummer Jonas Ekdahl has a commanding presence throughout the record also, a notable example of which can be found in his complex, yet beautiful percussive tom work on next track "A Secret Atlantis".
A constant in which fans can depend on throughout each and every Evergrey record is the dynamic and emotive vocal delivery from Englund, and here we find no exception. Englund's ability to capture the heart of a song and translate it through his voice is one of the primary reasons that he was, and very much remains, integral to Evergrey.
"All I Have" graces 'The Atlantic' with its presence on it. Its lengthy run time and technical proficiency are a treat in themselves for those more affiliated with that side of the band, but they are simply eclipsed by its chorus. From the moment it hits you can feel it bring Englund to his knees in honesty, mortality, and offering whatever left of himself that he has to give in a performance that encapsulates his talent as a sincere and moving vocalist. A heartwarming moment made heartbreakingly good by the level of investment Danhage gives to his solos on this piece.
"Currents" is something of a throwback to the early Evergrey sound proggy melodious, with engaging but not head-spinningly complex riffage ushering Englund's inimitable hooks, and Zander's overlaid melodies resembling predecessor Sven Karlsson's more than ever (or necessary).
And those currents bring us directly to The Atlantic's second apex, the melancholic "Departure," a veritable expedition spearheaded by Johan Niemann's bright and trebly bass, Danhage's sedate acoustic strumming and lush textures, Englund's bereft clamoring, and Zander's delicate melodies. "Departure" is indisputably one of the masterworks of this record, an elegiac lament relentlessly but patiently pushing forward with harmonic subtlety unhindered by its own tribulation or its need to conclude.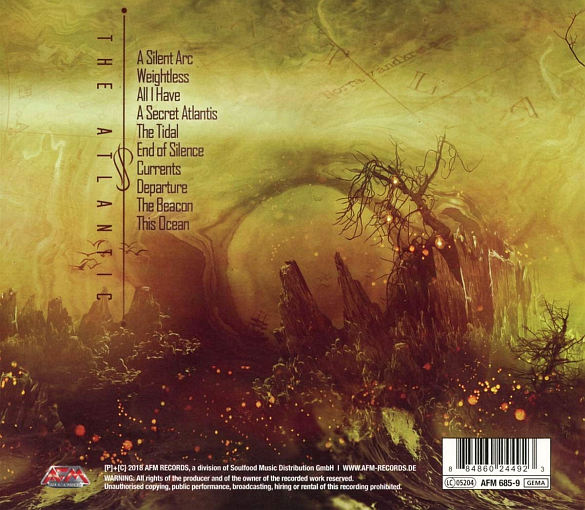 "The Beacon" continues in the album's earlier direction before album-closer "This Ocean" brings the new CD to a satisfying conclusion.
There is no such thing as a standard Evergrey record. Despite being "The Atlantic" part of a trilogy, even their more recent works have been as rich and as layered as those that came before them, never going stale. This collection of songs closes out that trilogy, which has been a deep and emotional journey for the band, and it does so with class.
"The Atlantic" displays intoxicating juxtapositions in true Evergrey fashion. Fierce yet soothing, with an underlying torment that feels almost melancholic, Evergrey have, once again, gone and outdone themselves.
Highly Recommended
01. A Silent Arc
02. Weightless
03. All I Have
04. A Secret Atlantis
05. The Tidal
06. End of Silence
07. Currents
08. Departure
09. The Beacon
10. This Ocean
Tom Englund – Vocals, Guitars
Henrik Danhage – Guitars
Rikard Zander – Keyboards
Jonas Ekdahl – Drums
Johan Niemann – Bass (ex Talisman)
PRE ORDER
www.amazon.de/Atlantic-Lim-Digipak-Evergrey/dp/B07KBRCL2Y
.