GARRISON – The Demo Recordings [digitally remastered]
GARRISON was one of the most promising AORish Melodic Rock bands to come out of Scotland at the end of the '80s, touring UK extensively with the likes of Thunder, Dare and Ian Gillan. Between 1988 and 1991 Garrison recorded a bunch of great demos which attracted Atlantic Records to offer them a deal, but the upcoming Grunge wave put everything to rest.
These demos were one of the most sought after songs ever requested by Melodic Rock / AOR aficionados, and were officially released for the first time on CD as "The Demo Recordings" by Street Legacy Records in conjunction with the Garrison members, whom have recently reformed and are back gigging.
Originally recorded between 1987 and 1992, this is a great slice of British Melodic Rock / AOR plenty of massive keyboard lines, big choruses and tasty guitar work in the same league as Tobruk, Shy, Bronz, Moritz and Heavy Pettin's more melodious side.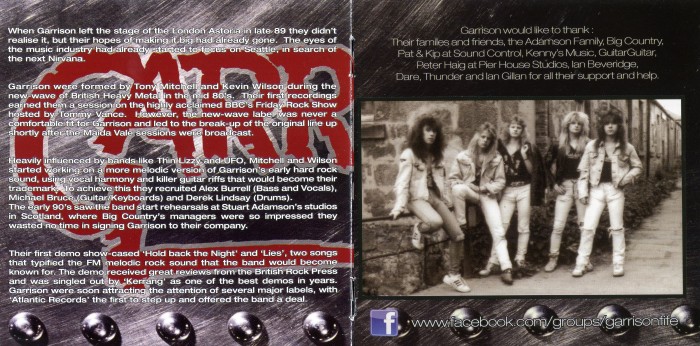 Seriously, it's a shame this talented band never got the chance, because their songwriting and musicianship are on par with any of the aforementioned acts.
Just check out hooky rockin' numbers such as "Are You Ready", "Give Me Love" and "I Will Be There", bouncy mid-tempo melodic rockers like "Lies" or the catchy "Too Far Gone", and the more straightforward "Rock It" with its Heavy Pettin-esque chorus.
Then us, rockin' AOR suckers, will fall in love with the superb "Hold Back The Night" (check the video-track), the exquisite "Stay With Me (Tonight)" and the harmony-filled "Never Let It Go".
"The Demo Recordings" is a long lost gem from Garrison, a band that should have been huge.
These tapes have been remastered & cleaned, and the sound quality is far better than the demos circulating for years from hand to hand (which I own a copy on CD-R).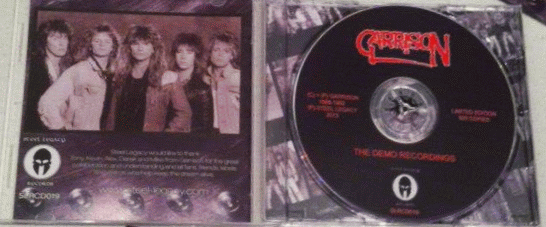 This was a very Limited Edition of 500 copies – of course out of print now and a collector's piece – silver pressed and professionally packaged with an eight page booklet containing unseen pics of the band plus complete bio.
HIGHLY RECOMMENDED
only at 0dayrox
01 – Are You Ready
02 – Oh Mamma
03 – I Will Be There
04 – Rock It
05 – Give Me Love
06 – Stay With Me (Tonight)
07 – Hold Back The Night
08 – Lies
09 – Too Far Gone
10 – Never Let It Go
11 – Here I Am
12 – Out Of Luck
13 – Strange Kind Of Love
Tony Mitchell – vocals
Kevin Wilson – guitars
Mike Bruce – keyboards, guitars
Alec Burrell – bass
Derek Lindsay – drums
Out Of Print:
www.puresteel-shop.com/GARRISON-The-Demo-Recordings_1
.