SURVIVOR – Too Hot To Sleep [Rock Candy Remastered & Reloaded]
Seventh album from SURVIVOR and their last in the '80s, "Too Hot To Sleep", one of the many albums from the band briefly taken out of print in 2009. However, it was 'Remastered & Reloaded' in all its glory by Rock Candy Records.
"Too Hot To Sleep" was the last Survivor album to be issued during their Eighties heyday, a record that took the band back to basics with an urgency fuelled by punchy hi-end production values and razor sharp guitar riffs.
It was also an album comprised of instantly catchy tunes, big hooks and heavenly vocals courtesy of the great Jimi Jamison.
By then the band was reduced to a trio, consisting of Jamison, guitarist Frankie Sullivan and keyboarder Jim Peterik, but in the studio they were joined by additional musicians Bill Syniar on bass and Mickey Curry (from the Bryan Adams Band) on drums.
Produced to impressive effect by Frank Filipetti (John Waite, Foreigner, etc), Survivor's three core members recorded the album primarily in New York City, utilising a new rhythm section that included well known drummer Mickey Curry from the Bryan Adams band.
The results were spectacular; big, bold and dynamic, with the emphasis on harder rock, yet still retaining their trademark melodic AOR sheen.
Some of the band's best tracks are to be found here, such as the immense ballad 'Desperate Dreams', the single 'Didn't Know It Was Love', the rather long (6:45) but excellent 'Here Comes Desire' and the up-tempo 'Can?t Give It Up', the latter a killer rocker full of keys and '80s rolling feel.
The top class ballad 'Across The Miles' features and awesome Jimi Jamison performance, and was one of Survivor's biggest AC chart hits.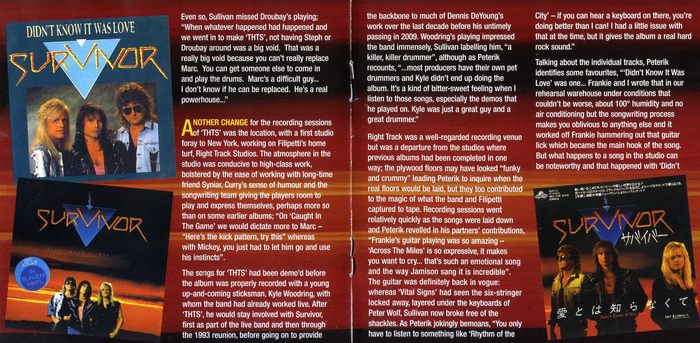 If you look at it from an accountants perspective, in purely commercial terms "Too Hot To Sleep" was less successful than its predecessor 'When Seconds Count' (in truth it barely dented the Billboard Top 200), but along with the aforementioned, 'Premonition' and the truly awesome 'Vital Signs', to these ears at least it represents the best thing the band ever recorded.
First of all Sullivan's guitars were pushed much more into the foreground, this time used to define the songs with Peterik's keyboards offering splashes of colour instead of the other way around.
This more punchy sound in turn seemed much more suited to Jamison's grittier vocal style, as had been amply demonstrated on the Cobra album 'First Strike' some five years earlier, which if we're honest was probably what landed him the gig in the first place.
Fortunately, this revamped approach didn't affect the quality of the songwriting one iota; the hooks, the melodies and the emotional investment remained as strong and vibrant as ever before.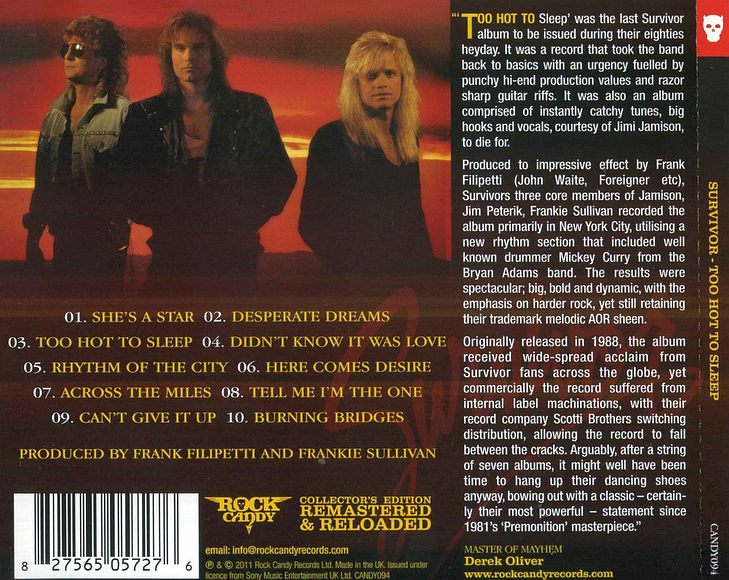 Criminally underrated, Survivor's "Too Hot To Sleep" should be considered another Melodic Rock / AOR lover's wet dream.
This 24-bit remastering from original source tapes by Rock Candy comes fuller, dynamic and rich in tonality. There's a really interesting 4,000+ word essay about the making of the album and interview with Jim Peterik, plus additional photos spread out over a 16 page full colour booklet.
A Must Have
01 – She's A Star
02 – Desparate Dreams
03 – Too Hot To Sleep
04 – Didn't Know It Was Love
05 – Rhythm Of The City
06 – Here Comes Desire
07 – Across The Miles
08 – Tell Me I'm The One
09 – Can't Give It Up
10 – Burning Bridges
Jimi Jamison – lead vocals
Frankie Sullivan – guitar, backing vocals
Jim Peterik – guitar, keyboards, backing vocals
Bill Syniar – bass
Mickey Curry – drums
BUY IT !
www.amoeba.com/too-hot-to-sleep-cd-survivor/albums/1050711/
.