GAMMA 1 [remastered Japanese SHM-CD] Out Of Print
Brainchild of guitarist Ronnie Montrose and singer Davey Pattison, GAMMA was founded in San Francisco at the end of the seventies delivering three stupendous albums in the lapse of 4 years. They returned in 2000 with a new effort, but the original records are the ones regarded as cult classics.
As requested, here's all the now our of print GAMMA remastered Japanese reissues manufactured on high quality SHM-CD, released on Cardboard Sleeve (mini LP) reproducing the original artwork.
Anybody familiar with Montrose's earlier work, especially with Sammy Hagar as the frontman really ought to check out this overlooked band. Ronnie's trademark, lean, mean, distinctive guitar tone is there as usual, but Gamma added the additional layers of synthesizers, tastefully served up by Jim Alcivar here on this first album.
However, perhaps one of the greatest contributions to Rock music made by Gamma with this debut was the discovery of vocalist Davey Pattison. This guy has a terrific, gravelly set of pipes, and was an absolutely undiscovered gem of a find for Ronnie Montrose and Rock 'n' Roll in general.
With a classy bluesy feel, Davey vocals ideal for the excellent hard rock served up here.
Yes, there's an element of accessibility and familiarity to this band, most notoriously on the albums to come, but this Gamma 1 was an edgier baby.
That edge shows up right away on Gamma 1 in three key elements. First was an evolution in Ronnie Montrose's style away from the fat power chords that made the original Montrose band hard rock icons and toward extended, intricate soloing that was anchored in melody, but aspired to steadily greater invention and tone.
Second was heavy use of synthesizers for texture and drama – sure, plenty of hard rock bands (including Montrose) were adding keyboards to the mix at the end of the seventies, but few made the leap to the wild, evocative, purely electronic synth tones adopted by Gamma.
Third was a distinctly moody / futuristic tone to both the album graphics and, in many cases, the lyrics.
Gamma 1 was the band's first try at making this formula gel, and as with many first tries, it's thoroughly energetic, if not entirely successful. The guitars ring, the synths swirl and Pattison wails, but Gamma's full potential appeared on the second album. Anyway, Gamma 1 is plenty of great moments.
"Thunder And Lightning" and "I'm Alive" give the album steady energy up front, as well as decent commercial appeal – both are pumping hard rock tunes put in a basic pop framework, but punctuated by exotic electronic accents and dynamic Montrose solos.
This approach reaches a high point here on the atmospheric "Solar Heat" and its complement, the furious rocker "Ready For Action."
The rest of the album can't quite match up to the punch of these four tunes, but it's enjoyable. "Razor King" and "Fight To The Finish" each have strong instrumental passages and fabulous solos, meanwhile "No Tears" and "Wish I Was" are a pair of well-executed ballads.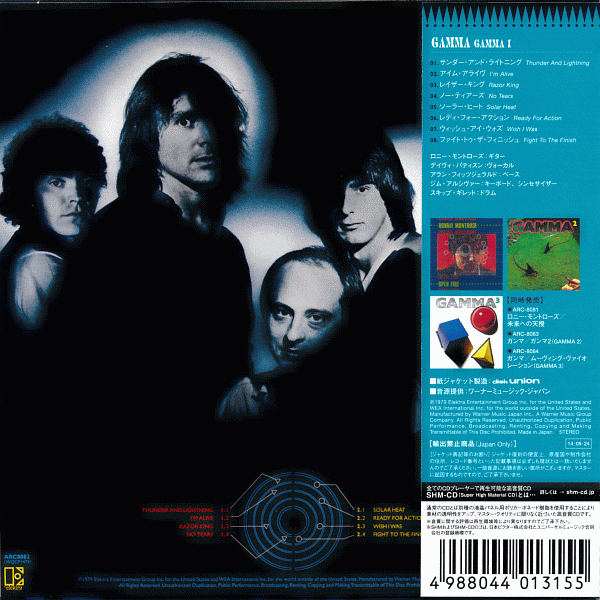 The strengths of this debut album – Montrose's adrenalized soloing, Jim Alcivar's atmospheric synths and Pattison's passionate vocals – would be the foundation of their second effort a year later.
Gamma 1 was a wobbly but distinctly promising debut, whose promise would be fulfilled on Gammas 2 and 3.
This Gamma 1 Japanese SHM-CD remaster is the best sounding you'll find out there, taken from the original master tapes and presented on a high quality package printed on glossy paper.
{ARCANGELO JAPAN ~ ARC-8082}
01 – Thunder And Lightning
02 – I'm Alive
03 – Razor King
04 – No Tears
05 – Solar Heat
06 – Ready For Action
07 – Wish I Was
08 – Fight To The Finish
Davey Pattison: vocals
Ronnie Montrose: guitar
Jim Alcivar: keyboards
Alan Fitzgerald: bass
Skip Gillette: drums
Out Of Print
www.cdjapan.co.jp/product/ARC-8082