METALLICA – … And Justice For All [Remastered] (2018)
This year mark the 30th anniversary of METALLICA's epic fourth album "…And Justice For All", and the legendary band have put something truly huge together to commemorate the record's release. This November 2nd, the band will re-release a 2018 remastered version of the record in multiple formats / deluxe sets.
The newly remastered recording was overseen by producer Greg Fidelman, and will be release on a standard double 180 gram LP, a standard CD, a 3 CD expanded version, cassette, and in a massive limited-edition box set.
The 3 CD expanded version features previously unreleased demos, rough mixes, unreleased live tracks, and a huge booklet of unseen Ross Halfin photos.
The deluxe box set features even more Metallica goods, including the double 180g LP, a "One" picture disc, 3 live LPs featuring a Seattle performance in 1989, 11 CDs with demos / rough mixes, a set of four patches, a Pushead print, a tour laminate, lyric sheets, a deluxe 120-page book with even more unseen photos and stories around the album from those closest to the band, and more
These deluxe packs are a pure delight for fans, but honestly, you only need – or at least I only need – the main "…And Justice For All" remastered.
The album is one of Metallica's greatest masterworks. Its songs are lengthy, nuanced statements on political devolution (the title track and "Eye of the Beholder"), the atrocities of war (the single "One") and dealing badly with difficult family lives ("Dyers Eve," "Harvester of Sorrow").
The music is especially intricate, with deftly constructed movements and difficult time signatures well outside the usual rock & roll head-bobbing beats — quite an accomplishment for a bunch of guys from California in their mid-twenties.
Since its release, many of the tracks have become set-list staples for the group, and it's been certified eight-times platinum, making it the second-best selling record in the band's catalogue. It's ranked high on Rolling Stone's list of the Greatest Metal Albums of All Time, and "One," with its chest-rattling machine-gun drumming and traumatizing lyrics, has been covered by everyone from Korn to the acoustic flamenco duo Rodrigo y Gabriela.
It's the record that broke Metallica into the mainstream, yet it had one flaw that has trailed it for the last three decades: it has practically no bass guitar.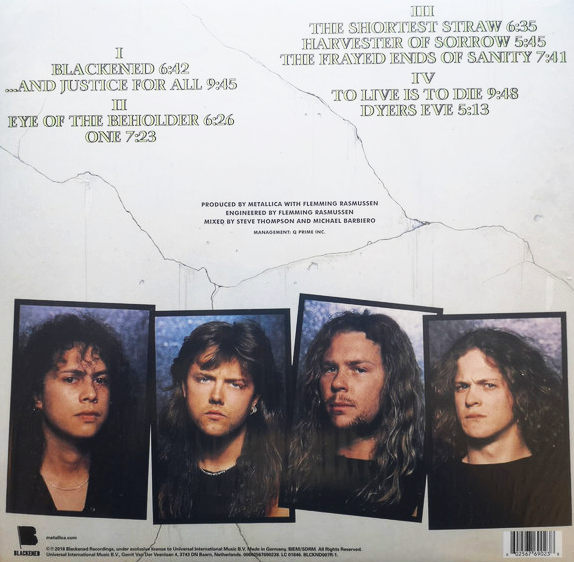 What (then) new bass player Jason Newsted recorded for the album was brilliant – it just was not audible on the finished LP. Co-producer Flemming Rasmussen said in 2016: "I'm probably one of the only people in the world, including Jason and Toby Wright, the assistant engineer, who heard the bass tracks on … And Justice for All, a big mistake."
Well, this is solved in part with this fresh 2018 remaster, in fact all the album sounds clearer, defined.
Highly Recommended
1 – Blackened (Remastered 2018)
2 – …And Justice for All (Remastered 2018)
3 – Eye of the Beholder (Remastered 2018)
4 – One (Remastered 2018)
5 – The Shortest Straw (Remastered 2018)
6 – Harvester of Sorrow (Remastered 2018)
7 – The Frayed Ends of Sanity (Remastered 2018)
8 – To Live is to Die (Remastered 2018)
9 – Dyers Eve (Remastered 2018)
James Hetfield – vocals, rhythm guitar, production
Kirk Hammett – lead guitar
Jason Newsted – bass
Lars Ulrich – drums, production
PRE ORDER:
www.amazon.de/Justice-All-Remastered-CD/dp/B07H3XK9YJ
.