LARRY LEE – Marooned [Japan remastered AOR CITY 1000 series] HQ
As part of the AOR CITY 1000 series, here's the for years hard to find LARRY LEE album "Marooned".
Sony Music Japan did this campaign titled AOR CITY 1000 featuring a Low-priced Reissue on 100 classic AOR / AC albums from their back catalog, many of them out of print or hard to find. A limited offer with the incredible price around U$S 9 each CD (or 1000 Japanese Yen, hence the name of the campaign).
Among the 100 titles there's albums by Toto, LeRoux, Balance, Airplay and many other gems, but the interesting ones are the hard to find (or at ridiculous prices) such as this delicious "Marooned", remastered and featuring the original Japanese Edition artwork.
Signed by Columbia / CBS, Larry Lee recorded his debut "Marooned" in 1982 featuring the whos' who from the now legendary L.A. Session scene.
Take note; Toto's David Hungate on bass, Hammond B3 master Ike Stubblefield, David Sanborn, fantastic drummer Mike Baird (Rick Springfield, Stan Bush) and no other than the likes of Bill Champlin (Chicago), Tom Kelly (i-Ten, Survivor), Richard Page (Pages, Mr. Mister) and the great Rosemary Butler, among others, contributing harmony vocals.
As you could imagine, "Marooned" is a breezy slice of classic US West Coast AOR with that lovely sound from the first half of the '80s.
The sweet 'Waiting To Let Go', the AOR waves of 'Don't Talk', the FM radio ready title track, the highly melodic 'Number One Girl' and of course the elegant ballad 'The Best Is Yet To Come' are all impregnated with exquisite instrumentation and the smooth vocals of Lee.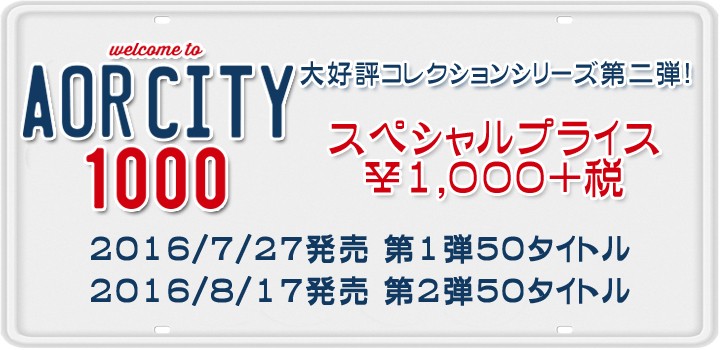 Produced with a pristine atmosphere by skilled John Ryan (Styx, Greg Guidry), "Marooned" is a wonderful album with a sound that defined an era. I always loved this record as not only includes excellent songs, but also has the ability to properly mix uptempo songs with suave ballads / mid-paced melodies resulting in one of the best balanced (and sounding) albums from the classic AOR West Coast era.
This is you chance to get a Japanese Edition of this album at a really affordable price. It uses the last, very good remastering.
Highly Recommended
SONY MUSIC JAPAN ~ 【SICP-4896-CD】
A O R   C I T Y  1000
01 – Waiting To Let Go
02 – Don't Talk
03 – Marooned
04 – The Best Is Yet To Come
05 – Number One Girl
06 – Satisfaction Guaranteed
07 – Only Seventeen
08 – Hollywood
09 – Just Another Girlfriend
10 – Hang On
Larry Lee: lead vocals
John Goin: guitars
David Hungate: bass
Nicky Hopkins: keyboards
Gabriel Katona, Ike Stubblefield: synths
David Sanborn: saxophone
Lenny Castro: percussion
Mike Baird: drums
David Campbell: orchestrations
Bill Champlin, Tom Kelly, Rosemary Butler, Vanetta Field, Maxyn Lewis, Richard Page, Rick Danko: backing vocals
BUY
www.cdjapan.co.jp/product/SICP-4896