HOUSE OF X – st [UFO / Phil Lynott Band / Lionheart / MSG members]
Three years of touring and recording as X-UFO led to this band finding their own identity and prompting a 're-branding' as HOUSE OF X. As requested, here's their self-titled album "House Of X" released on Escape Records.
We're talking about the super classic Hard Rock combo including singer Danny Peyronel (ex UFO, Heavy Metal Kids), awesome guitarist Laurence Archer (Grand Slam, Phil Lynott Band) Clive Edwards (Wild Horses) on drums, and Lionheart / ex-MSG Rocky Newton on bass.
"House Of X" (the album) is an excellent example of classic, traditional British Hard Rock being made in the now and still sounding not only relevant but also incredibly kick ass. It's a tour de force through everything that makes the old classics… classic.
Consisting of entirely new songs – with the exception of a markedly heavier version of Danny Peyronel's classic UFO ballad "Martian Landscape", this record is plenty of terrific melodies, groove galore and lots, lots of fantastic guitars.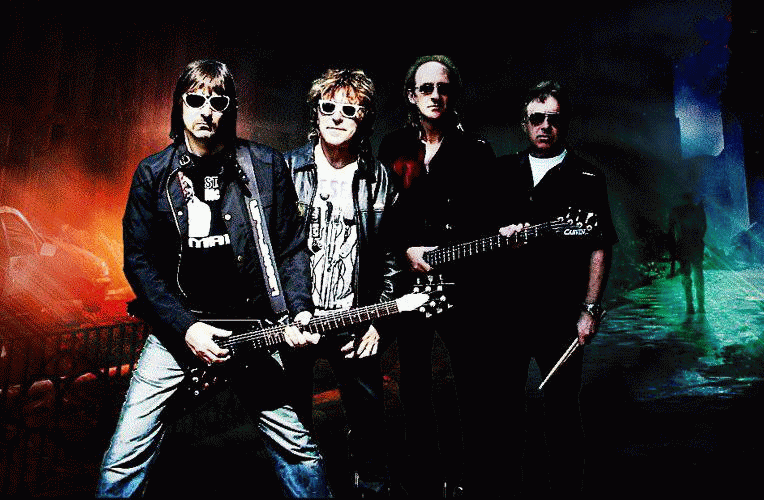 The album opens with "Do Me Wrong" and instantly you can tell what the next 45 minutes is going to hold. It's a solid song, however, it isn't the best of the bunch. And there's seriously awesome tracks here, believe me.
Danny Peyronel's vocals have 'that' British feel and the first of many guitar solos tears its way through the speakers and assaults your ears with raw sexual power. It's these kind of things that we need more of, big manly sexual guitars and vocalists that sound like they have balls the size of Florida oranges.
The aforementioned party element isn't far behind though and the second song is the aptly named "No More Tequila" and quite frankly, it made me want to go and dig out an old leather jacket and start a swinging my hair in the face of the sweet old lady next door.
Cuts like "No Way Home", the melting "Busted" or the catchy "The Road Less Troubled" will put a big smile in your face. This is classic stuff played from the heart, tight, energetic and fun, absolutely fun.
The band's overall sound reminds you many classic acts, but strangely there's very few UFO references. To my ears this is a mix of Michael Schenker Group with Doug Aldritch's Burning Rain and a touch of '80s Gary Moore.
And Rocks.
The album does switch it up a little and there are a few more ballad-esque songs in the latter sections. The transition between "Rage" (terrific guitar / keyboard duel) and the groovy slowburner "Alive" is a beautiful crossover and happens so organically that you barely notice it happening.
"Second Son" delivers some Melodic Rock in the vein of Streets (Mike Slammer) and it's a highlight. "House Of Lies" rocks hard again with muscular guitars, while musically, "Millions" is a homage to the '70/'80 British scene.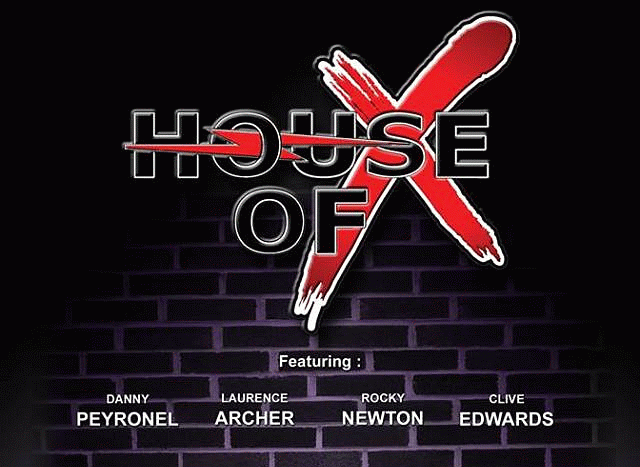 "House Of X" is definitely an album that will resonate 5 stars with fans of the good old days, and if you are into more modern sounds, do yourself a favor and listen to it. You will love it.
Everything sounds so 'real' that is a pleasure. 'Real' means real classic Hard Rock, with blood, from the heart. The songwriting is excellent, as the performances, while production is first class.
A golden pot of Classic Hard Rock – Highly Recommended
01. Do Me Wrong
02. No More Tequila
03. Long Arm Of The Law
04. No Way Home
05. The Road Less Troubled
06. Martian Landscape
07. Rage
08. Alive
09. Busted
10. Second Son
11. House Of Lies
12. Millions
Danny Peyronel – Lead Vocals, Keyboards (ex UFO)
Laurence Archer – Guitars, Backing Vocals (Phil Lynott Band)
Clive Edwards – Drums (Wild Horses)
Rocky Newton – Bass, Backing Vocals (Lionheart, ex MSG)

BUY IT
www.amazon.co.uk/House-X/dp/B00NE62550
.