THUNDER – BackStreet Symphony [2-CD Remastered Edition with Bonus]
Many of you asked for British hard rock institution THUNDER first album "Back Street Symphony" (or  BackStreet Symphony as they want to be named) in its deluxe  edition, 2xCD including a lot of bonus material. A must have album in your collection for sure.
Every once in a while, you come across a band that you want the world to know about. I first saw the video for "Dirty Love" from Thunder on MTV (remember when MTV showed videos?). It made me run right out and buy "Backstreet Symphony" on cassette (I didn't have a CD player yet).
It blew me away.
Other than "Dirty Love" and "Love Walked In," Thunder didn't get much play in the U.S. Many missed out on the brief window they had to hear about this band.
They were big in the U.K. and Japan and that's allowed them to continue even to this day (with a couple of hiatuses). They've put out great straight-up hard rock music with melody throughout their career.
They came out at the height of the hair metal era, but they weren't a hair metal band. There a guitar-based, bluesy hard rock outfit. And with a bang…
Guitarist Luke Morley, singer Danny Bowes and drummer Gary 'Harry' James emerged from the wreckage of Terraplane in 1989 and after enlisting bassist Mark Luckhurst and keyboard and some time guitarist Ben Matthews emerged as Thunder.
Thus creating one of the most amazing transformations and re-inventions the rock world had seen in a while.
Terraplane, after a reasonably successful start had become pretty much also rans of the struggling late Eighties rock scene as the bands main protagonists pulled in one direction and their record company kept pushing them in another. To be fair to them their two albums are really enjoyable affairs but there really was no sign in 1989 that what was virtually the same band would move from also rans to becoming the new darlings of the UK hard rock scene within twelve months.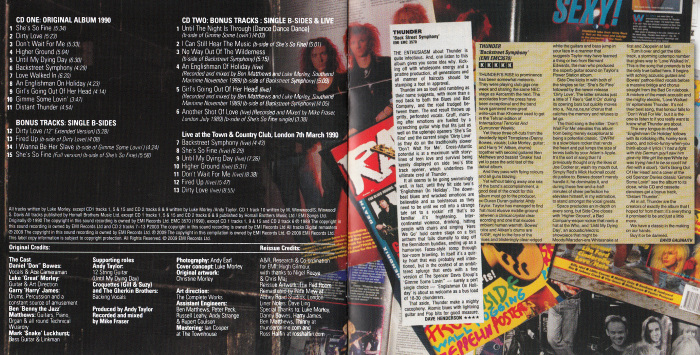 After performing an audition for EMI, Thunder were given a deal and sent of to the studio to record what many still think is their best album; "BackStreet Symphony".
Danny Bowes has one of the best voices in rock. He reminds me of a more soulful and bluesy David Coverdale. Lead guitarist and main songwriter, Luke Morley creates catchy riffs and crafts stories through their songs.
Highlights of the album go deep. In fact, the first seven songs may be one of the best seven song stretches on any LP.
"She's So Fine" kicks it off with Bowes singing of love at first site. The aforementioned "Dirty Love" leads to "Don't Wait For Me" which gives Bowes a chance to shine on vocals.
The songs just keep getting better with "Higher Ground," "Until My Dying Day," "Backstreet Symphony," and the awesome power ballad "Love Walked In" – a true classic tune.
Thunder exploded into the big league of British rock on the back of this terrific album and a show stealing performance at the Monsters Of Rock Festival at Donington that summer. Where, despite being bottom of the bill and having to start their set before half of the crowd had been allowed in, they blew every other band off the stage. Ironically one of those bands were headliners Whitesnake, who had by then almost abandoned the sound that had inspired Thunder in the first place.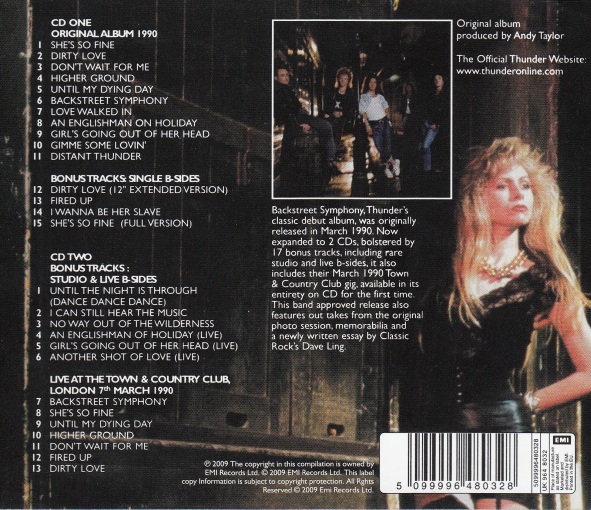 This "BackStreet Symphony [2-CD Remastered Edition with Bonus]" is the one to own. It packs the entire single B-sides, plus a killer performance at Town & Country Club in London, March 7th, 1990, all finely remastered with a pristine punchy sound.
A must-have for all classic hard rock fans.
DISC I : BackStreet Symphony remastered +4
01 – She's So Fine
02 – Dirty Love
03 – Don't Wait For Me
04 – Higher Ground
05 – Until My Dying Day
06 – Backstreet Symphony
07 – Love Walked In
08 – An Englishman On Holiday
09 – Girl's Going Out Of Her Head
10 – Gimme Some Lovin'
11 – Distant Thunder
BONUS TRACKS:
12 – Dirty Love (12" Extended Version)
13 – Fired Up [B-side]
14 – I Wanna Be Her Slave [B-side]
15 – She's So Fine (Full Version) [B-side]
DISC II : Studio & Live B-sides;
01 – Until The Night Is Through (Dance Dance Dance)
02 – I Can Still Hear The Music
03 – No Way Out Of The Wilderness
04 – An Englishman On Holiday (Live)
05 – Girl's Going Out Of Her Head (Live)
06 – Another Shot Of Love (Live)
Live in London 1990;
07 – Backstreet Symphony (Live)
08 – She's So Fine (Live)
09 – Until My Dying Day (Live)
10 – Higher Ground (Live)
11 – Don't Wait For Me (Live)
12 – Fired Up (Live)
13 – Dirty Love (Live)
Danny Bowes – vocals
Luke Morley – guitar
Ben Matthews – guitar, piano, organ
Mark "Snake" Luckhurst – bass
Gary "Harry" James – drums, percussion
Andy Taylor – production, twelve-string guitar (track 5)
BUY IT
www.amazon.de/Backstreet-Symphony-2cd-Remaster-Thunder/dp/B002ASVQW6