THIN LIZZY – Life/Live [2xSHM-CD 40th Anniversary remastered] (2023) HQ *Exclusive*
Universal Music has released a 40th Anniversary reissue of THIN LIZZY album 'Life' (subtitled Live, and labelled Life/Live on the original vinyl LP editions) remastered from the best sources available.
This double album was recorded during their farewell tour in 1983, principally at the Hammersmith Odeon in London, UK. Phil Lynott had felt reluctantly that it was time to disband the group after the 1983 tour and to mark the occasion, former Thin Lizzy guitarists Eric Bell (1969–73), Brian Robertson (1974–78) and Gary Moore (1974, 1977 and 1978–79) joined the band on stage at the end of these gigs to do some numbers. This was called "The All-Star Jam".
During the performance of "The Rocker", all of the guitarists played at the same time (Moore, John Sykes, Scott Gorham, Robertson and Bell), making a total of eight members on stage performing at once (including keyboard player Darren Wharton, later founder of AOR band Dare).
This is the Japanese release of this Life/Live 40th Anniversary release on a double SHM-CD pack.
The versions of "Renegade", "Hollywood" and "Killer on the Loose" featuring Snowy White had been performed two years earlier when he was still with the band.
Lynott described the slower tempo version of "Don't Believe a Word" as being the original arrangement. A version of the song with the slower arrangement appears on Gary Moore's Back on the Streets album from 1978, with Lynott on bass guitar and lead vocals and Brian Downey on drums.
And of course, Thin Lizzy delivers their classics here: "Jailbreak", "Thunder & Lightning", "Emerald", "Black Rose", "Are You Ready?" and more.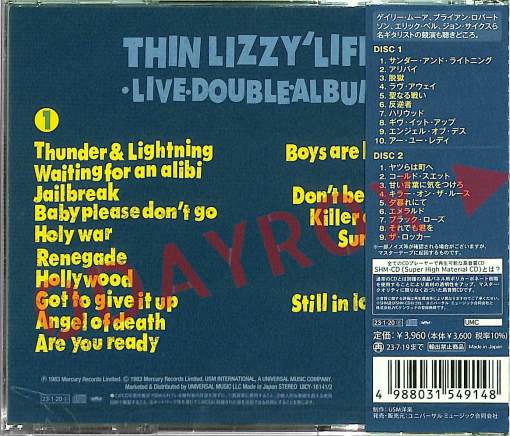 We always thought the original version of "Life/Live" sounded poor, a pity, 'cos the performances are great. It's always arguable if a 'Live' album can be remastered. We think it's possible with today's tech if you have the original masters.
This 2023 'remastered' version offers a sligh improvement. The label puts clear in the tin: 'from the best sources available'.
However what "Life/Live" needs is a new, better multi-track 'ReMix'. But considering the original tapes are long lost, that wouldn't be possible.
This is the best it's going to ever sound.
We still are not happy with the 'audience sound' (hissy) and some drums sound / mix, but hell, this is Thin Lizzy, one of the best Rock bands in history. And they kill here.
Highly Recommended
Only at 0dayrox
UNIVERSAL MUSIC JAPAN  / UICY~16141/42
【SHM-CD】 2023年1月20日発売
SHM-CD 1
1. Thunder & Lightning
2. Waiting For an Alibi
3. Jailbreak
4. Baby Please Don't Go
5. Holy War
6. Renegade
7. Hollywood (Down on Your Luck)
8. Got To Give It Up
9. Angel Of Death
10. Are You Ready?
SHM-CD 2
1. The Boys Are Back in Town
2. Cold Sweat
3. Don't Believe a Word
4. Killer On the Loose
5. The Sun Goes Down
6. Emerald
7. Black Rose
8. Still In Love with You
9. The Rocker
BUY
www.cdjapan.co.jp/product/UICY-16141