MICHAEL THOMPSON BAND – How Long [Frontiers remastered reissue +3] *HQ* Out Of Print
With the release of the new MICHAEL THOMPSON BAND excellent new album, some of you asked for their terrific debut, reissued some time ago by Frontiers Music remastered with bonus tracks. "How Long [Frontiers remastered reissue +3]" has become out of print now, with unopened copies being sold for over 100 Euros.
Michael Thompson is nowadays one of the most well known and respected guitar players. He played with / for Michael Bolton, Great White, Cher, Shania Twain, Leann Rimes, Richard Marx, Celine Dion, Madonna and several others.
In 1988, after working to try and get a deal with his band Slang for several years, Thompson got signed by Geffen Records to release one album entitled "How Long", under the Michael Thompson Band (MTB) moniker.
The singer for this group was Michael's long time friend Rick 'Moon' Calhoun, previously front man for the AOR cult band THE STRAND.
Completing the line-up were another bunch of highly respected studio professionals such as John Andrew Schreiner (on keyboards), Leon Gaer (bass), John Keane (drums).
In 1989, the album "How Long" was released.
On "How Long" more first-call musicians appeared as guests, in particular drummer-maestro Terry Bozzio, Pat Torpey (of MR BIG), bassist Jimmy Haslip, ex KANSAS vocalist John Elefante, TOTO's Bobby Kimball and GREAT WHITE associates Michael Lardie and Wyn Davis (who also produced the album).
Songwriters would include, among others, AOR luminaries such as: Jeff Paris, Mark Spiro, Bill Trudell and Brett Walker.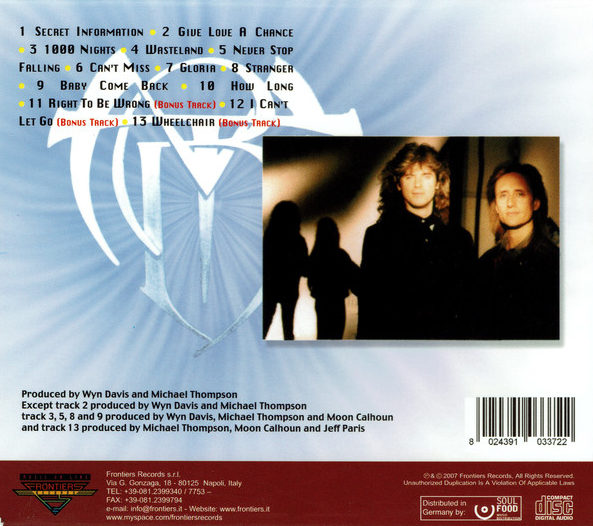 As of today "How Long" is regarded as one of the greatest examples of US AOR / West Coast, with a superb production and immaculate songwriting.
During the years it became more and more of a collector's item and the prices paid on E-bay exceeded the reasonable. Unfortunately, the same apply now for "How Long [Frontiers remastered reissue +3]".
Packed into a very nice slipcase, this reissue comes completely remastered and adds 2 songs "Right To Be Wrong" and "Love Goes On" which were recorded during the original sessions, and a new song especially recorded for this re-release, the fruit of a reunion between Michael, Moon Calhoun and songwriter Jeff Paris entitled "Wheelchair".
A MUST
01 – Secret Information
02 – Give Love A Chance
03 – 1000 Nights
04 – Wasteland
05 – Never Stop Falling
06 – Can`t Miss
07 – Gloria
08 – Stranger
09 – Baby Come Back
10 – How Long
BONUS TRACKS:
11 – Right To Be Wrong
12 – I Can`t Let Go
13 – Wheelchair
Vocals, Drums, Guitars: Moon Calhoun
Guitars: Michael Thompson
Keyboards: John Andrew Schreiner
Bass: Leon Gaer
Drums: John Kenae
Additional Musicians:
Drums: Terry Bozzio, John Robinson, Bernie Pershey, Pat Torpey
Bass: Trey Thompson, Jimmy Haslip
Add. Guitars: Wyn Davis, Alan Niven
Percussion: Michael Fisher, Steve Forman, Wyn Davis
Background Vocals: Bobby Kimball, Billy Trudell, John Elefante, Tyana Parr, Patty Unaitis, Mike Lardie, Julia Waters, Maxine Waters, Myrna Mathews
Tet Here
www.amazon.de/How-Long-Michael-Band-Thompson/dp/B000PUB9FU/