DENNIS DeYOUNG – Desert Moon + Back To The World [BGO Remaster]
Founder member and one of the pillars of Styx's fame, talented singer & keyboardist DENNIS DeYOUNG started a solo career after Styx went on hiatus in the first half of the '80s.
DeYoung's first two solo recordings "Desert Moon" and "Back To The World" have been remastered and re-issued both on one disc by BGO Records with extensive sleeve notes from Neil Daniels, along with a complete booklet including all the lyrics and photos.
"Desert Moon" came out in 1984, producing top US hit with the album's title track, plus "Don't Wait For Heroes" managed to crack the Billboard Top 100 singles chart and the album sold well.
This record is quite early Eighties sounding, with a radio friendly sound and several mid-tempo tunes and ballads. That said "Please" is one of the most rocking songs with a Rosemary Butler duet with DeYoung working to good effect.
It does get really sugary with the commercial ballad "Dear Darling (I'll Be There)", like a latter day 'Babe', Styx's classic hit.
There is also a bizarre version of the Jimi Hendrix song "Fire", that has a very '80s drum/synth feel and like any good cover does try and do something different than the original version.
But what really makes this release really interesting is "Back To The World", Dennis' second album from 1986. Not only because it's a great Melodic Rock album, but also this is the first time that has been reissued on CD (long time out of print) and as plus, in a remastered form.
Kicking off with the majestic "This Is The Time" (as featured on the 'Karate Kid II' soundtrack) the big chorus and tasty instrumentation work so well, as it does in the rest of the album. The overall sound is pure second half of the '80s, polished and crisp.
"Warning Shot" is another highlight built on a big guitar riff and a dinky synth line on the chorus, classic stuff indeed.
DeYoung always does ballads so well as his voice is suited to the mellower, piano led songs and "Call Me" is a perfect example of this.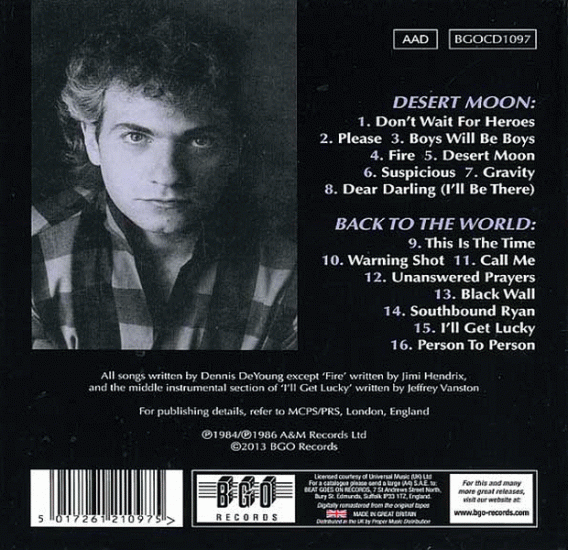 "Desert Moon + Back To The World (2on1) [Remastered]" is more than a welcomed release, as these Dennis DeYoung albums were really hard to find, and never received a remastering treatment.
Any '80s Melodic Rock / AOR fan should have at least "Back To The World" in their collection, and with this 2-albums-on-1-CD you can't go wrong.
Highly Recommended
Desert Moon:
01. Don't Wait For Heroes (4:46)
02. Please (4:21)
03. Boys Will Be Boys (5:42)
04. Fire (3:47)
05. Desert Moon (6:08)
06. Suspicious (4:58)
07. Gravity (4:49)
08. Dear Darling (I'll Be There) (4:27)
Back To The World:
09. This Is The Time (3:56)
10. Warning Shot (4:27)
11. Call Me (4:49)
12. Unanswered Prayers (6:38)
13. Black Wall (5:54)
14. Southbound Ryan (4:43)
15. I'll Get Lucky (4:43)
16. Person To Person (4:58)
Dennis DeYoung: Vocals, Keyboards, Percussion
Tom Dziallo: Guitar, Bass, Percussion
Jeffrey Vanston: Keyboards
Dennis Johnson: Bass
Tom Radtke, Wayne Stewart: Drums
Steve Eisen, Marc Colby: Saxophone
Rosemary Butler, Sandy Caulfield, Suzanne DeYoung, Tom Dziallo, Dawn Feusi, Pat Hurley, Gary Loizzo: Backing Vocals
BUY IT
www.bgo-records.com/albums/bgocd1097-desert-moon-back-to-the-world
.