HAREM SCAREM – The Ultimate Collection Box Set [14-discs physical CD remasters only available here]
As requested by many, here's the complete HAREM SCAREM 'The Ultimate Collection Box Set', a 14-CD limited edition deluxe box set released via Frontiers Music. This is a very Limited Edition Box including all 13 Harem Scarem albums plus a disc of rarities, now out of print and with remaining copies sold for over Eur 700.
Given the particularly prolific nature of relationship between Frontiers and the band, it was decided to make the band's catalog (some albums out of print) available in an exclusive and limited edition box set, in cooperation with Warner Music who kindly agreed to license the band's first five studio albums.
That's why these CDs (1 to 5) are not available digitally, only physical CD's into the box.
Additionally, these essential early Harem Scarem albums – 'Harem Scarem', 'Moodswings', 'Voice Of Reason', 'Karma Cleansing / Believe' and 'Big Bang Theory' – all have been remastered by vocalist Harry Hess especially for this release.
Most of these Warner era albums are out of print, and here are presented including bonus tracks each.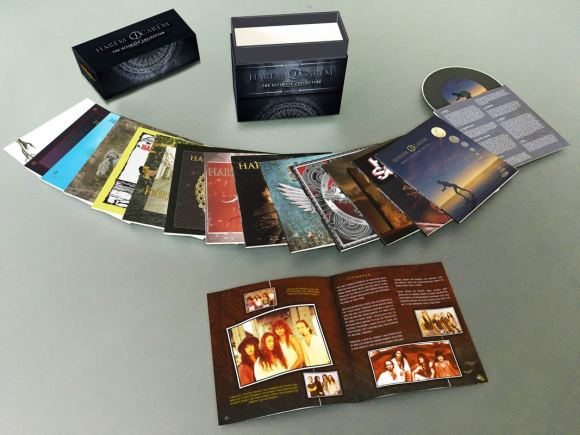 All the band's albums are great, but in our humble opinion, Harem Scarem first self-titled album is among the greatest Melodic Hard Rock albums ever made, followed closer by their second killer LP 'Mood Swings', harder n' punchier.
And this Box Set packs an extra juice: a Bonus CD number 14 including unreleased rarities, Japanese bonus tracks, etc.
A MUST HAVE
CD 1. Harem Scarem (remastered by Harry Hess)
01 Hard To Love
02 Distant Memory
03 With A Little Love
04 Honestly
05 Love Reaction
06 Slowly Slipping Away
07 All Over Again
08 Don't Give Your Heart Away
09 How Long
10 Something To Say
BONUS TRACKS:
11 Hard To Love (Acoustic)
12 How Long (Acoustic)
13 Honestly (Acoustic)
14 Slowly Slipping Away (Acoustic)
CD 2. Mood Swings (remastered by Harry Hess)
01 Saviors Never Cry
02 No Justice
03 Stranger Than Love
04 Changes Come Around
05 Jealousy
06 Sentimental Blvd
07 Mandy
08 Empty Promises
09 If There Was A Time
10 Just Like I Planned
11 Had Enough
BONUS TRACKS:
12 Change Comes Around (acoustic)
13 No Justice (Crazy Pants Remix)
14 If There Was A Time (acoustic)
15 Jealousy (acoustic)
16 Just Like I Planned (Acoustic)
17 Stranger Than Love (acoustic)
CD 3. Voice Of Reason (remastered by Harry Hess)
01 Voice Of Reason
02 Blue
03 Warming A Frozen Rose
04 Let It Go
05 And That's All
06 Breathing Sand
07 Candle
08 The Paint Thins
09 I'll Be Brief
10 Untouched
11 Necessary Evil
BONUS TRACK
12 Candle (Acoustic)
CD 4. Believe / Karma Cleansing (remastered by Harry Hess)
01 Believe
02 Die Off Hard
03 Hail, Hail
04 Staying Away
05 Baby With A Nail Gun
06 Morning Grey
07 Victim Of Fate
08 Rain
09 I Won't Be There
10 Karma Cleansing
11 Cages
12 The Mirror
BONUS TRACK:
13 Rain (Acoustic)
CD 5. Big Bang Theory (remastered by Harry Hess)
01 So Blind
02 Climb The Gate
03 Reload
04 Tables Turning
05 Turn Around
06 Seas Of Dissension
07 Sometimes I Wish
08 Never Have It All
09 Lying
10 Without You
BONUS TRACKS:
11 Wasted Time
12 New Religion
13 What I Do
14 In My State Of Mind
15 So Blind (Acoustic)
CD 6. Weight Of The World
01 – Weight Of The World
02 – Killing Me
03 – Outside Your Window
04 – All I Want
05 – This Ain't Over
06 – Internude
07 – You Ruined Everything
08 – Charmed Life
09 – If You
10 – See Saw
11 – Voice Inside
12 – End Of Time (Bonus track)
CD 7. Higher
01 – Reach
02 – Waited
03 – Torn Right Out
04 – Give It To You
05 – Higher
06 – Run And Hide
07 – Lucky Ones
08 – Lies
09 – Gone
10 – Lost
11 – Wishing (Bonus Track)
12 – Higher [Acoustic] (Bonus Track)
CD 8. Overload
01 – Dagger
02 – Afterglow
03 – Rise & Fall
04 – Don't Come Easy
05 – Can't Live With You
06 – Forgive & Forget
07 – All You're Getting
08 – Leading Me On
09 – Understand You
10 – Same Mistakes
CD 9. Human Nature
01 – Human Nature
02 – Next Time Around
03 – Caught up in Your World
04 – Reality
05 – Hanging On (Human
06 – Don't Throw It Away
07 – Give Love Get Love
08 – 21
09 – Starlight
10 – Going Under
11 – Tomorrow May Be Gone
12 – Human Nature (Acoustic Bonus Track)
13 – Caught up in Your World (Acoustic Bonus Track)
CD 10. Hope
01 – Watch Your Back
02 – Time Bomb
03 – Hope
04 – Days Are Numbered
05 – Dark Times
06 – Beyond Repair
07 – Never Too Late
08 – Shooting Star
09 – Calm Before The Storm
10 – Nothing Without You
CD 11. Thirteen
01 – Garden Of Eden
02 – Live It
03 – Early Warning Signs
04 – The Midnight Hours
05 – Whatever It Takes
06 – Saints And Sinners
07 – All I Need
08 – Troubled Times
09 – Never Say Never
10 – Stardust
11 – Garden Of Eden (Acoustic Bonus Track)
12 – The Midnight Hours (Acoustic Bonus Track)
CD 12. United
01 – United
02 – Here Today Gone Tomorrow
03 – Gravity
04 – Sinking Ship
05 – One Of Life's Mysteries
06 – No Regrets
07 – Bite The Bullet
08 – Things I Know
09 – The Sky Is Falling
10 – Heaven And Earth
11 – Indestructible
12 – Here Today, Gone Tomorrow (Acoustic Bonus Track)
13 – The Sky is Falling (Acoustic Bonus Track)
CD 13. The Early Years
01 – Whatever I Want
02 – When The Morning Comes
03 – Say Good Bye
04 – Looking Back
05 – All Over Again
06 – Honestly
07 – Lovin Like 90
08 – One Step At A Time
09 – Staying Away
10 – Last Time
11 – One Of The Wounded
12 – The Right Time
13 – You're The One
14 – Out Of Love
15 – Lost In Yesterday (Bonus Track)
16 – I Can Hear Them Now (Bonus Track)
CD 14. Bonus Tracks & Rarities
01. Easier
02. If I'd Been Awake
03. World Gone To Pieces
04. Brighter Day
05. Remember
06. Anarchy
07. Why
08. Freedom
09. More Than You'll Ever Know
10. Good Enough
11. Coming Down (Acoustic)
Try here:
www.ebay.de/itm/194067125346
www.amazon.co.uk/Ultimate-Collection-14-Disc-Boxset/dp/B07LD4P46G