V.A. – Legends: Get It On [Audio Fidelity SACD AFZ 179]
TimeLife (the informercial company) has released over the years lots of greatest hits collections from big bands to do-wop to classic rock to country to best love ballads.
Now they introduce something new in the realm of compilation albums – for the first time ever in conjunction with Audio Fidelity they have assembled the original masters of some of rock's biggest stars and remastered these classics on a 24 Karat gold SACD (Super Audio CD).
The collection is based on the original TimeLife LEGENDS product. With "Get It On!", Audio Fidelity has taken these hit tracks to another sonic level.
Most popular compilations albums are pieced together from songs that were assembled using the compressed hit radio versions.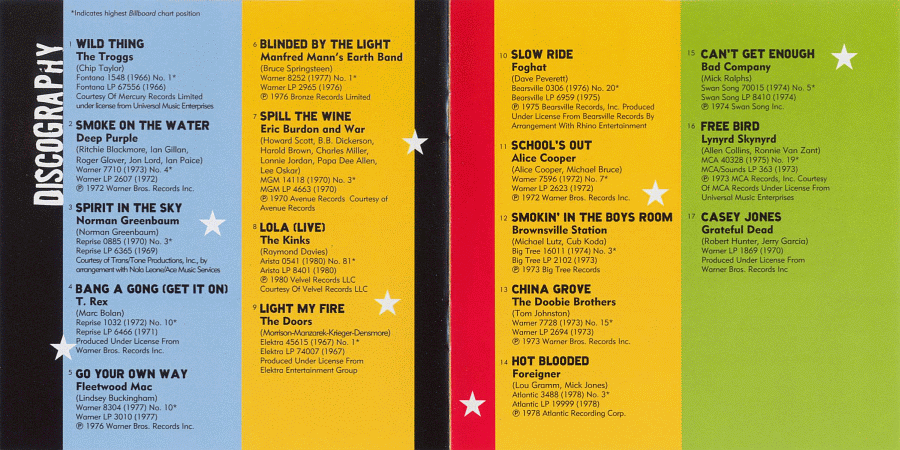 Audio Fidelity has spent months gathering the best available individual masters of the all-time rock standards included on this SACD. All the original masters from these great artists and all these great hits remastered for the first time in a SACD.
You have never heard a hits collection of such consistently high standards. It's like hearing these classic hits for the first time.
The song selection is great, specially because these are timeless classics and many truly needed a remastering work with the quality and precision from Audio fidelity specialists.
You have "Bang A Gong (Get It On)" sounding bigger than ever. Alice Cooper's "School's Out", "Smokin' In The Boys Room", Foghat's "Slow Ride", "Smoke on the Water" (sounds awesome) and "Freebird", some real fun rockin' stuff.
There's even a live version of "Lola" by The Kinks, that needs to be cranked up (the irony).
Easily Recommended.
01 – The Troggs – Wild Thing
02 – Deep Purple – Smoke On The Water
03 – Norman Greenbaum – Spirit In The Sky
04 – T. Rex – Bang A Gong (Get It On)
05 – Fleetwood Mac – Go Your Own Way
06 – Manfred Mann's Earth Band – Blinded By The Light
07 – Eric Burdon And War – Spill The Wine
08 – The Kinks – Lola (Live)
09 – The Doors – Light My Fire
10 – Foghat – Slow Ride
11 – Alice Cooper – School's Out
12 – Brownsville Station – Smokin' In The Boys Room
13 – The Doobie Brothers – China Grove
14 – Foreigner – Hot Blooded
15 – Bad Company – Can't Get Enough
16 – Lynyrd Skynyrd – Free Bird
17 – Grateful Dead – Casey Jones
Out Of Print
www.audiofidelity.net/content/legends-get-it-various-artists
.