FARGO – Constellation (2018)
36 years after their last release, 'F', in 1982, German cult act FARGO has announced the arrival of a brand-new studio album this 2018. "Constellation" is due out on Steamhammer/SPV on May 25 and will be available on CD Digi and colored gatefold LP.
The current line-up includes founder members Peter Ladwig (vocals/guitar) and Peter "Fargo-Pedda" Knorn (bass). Two songs on the album feature original drummer Frank "Franky" Tolle. In addition, the group consists of guitarist Arndt Schulz (Harlis, Jane) and drummer Nikolas Fritz (Mob Rules).
The Fargo reunion was preceded by the major success of Knorn's autobiography Bis hierhin und so weiter, 20 Jahre Rock´n`Roll in summer 2016. Ever since its release, the musician and band manager has increasingly seen himself faced with urgent requests by faithful Fargo fans to reactivate the band which had ceased to exist since the foundation of Fargo's successor, Victory, in the early 1980s.
Fargo have recorded a total of twelve classic rock songs for "Constellation", all classic rock oriented with a bluesy foundation.
Numbers such as 'Step Back', 'Mind Your Own Business' or 'Loser's Blues' remindsme of some Status Quo, 'Goddess of Destiny' and 'Cross to Bear' a bit of Scorpions, and other, harder tunes have some Thunder on it.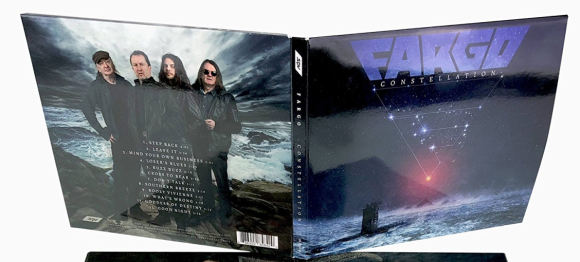 "Constellation" is indeed a constellation of rock music styles from various decades, mosty influenced from the Seventies / Eighties, recorded with a 'vintage' sound.
While it's enjoyable timeless rock music, I miss some memorable choruses. All musicians involved are seasoned players, and overall, it's a well produced LP.
Cool
01 – Step Back
02 – Leave It
03 – Mind Your Own Business
04 – Loser's Blues
05 – Buzz Buzz
06 – Cross to Bear
07 – Don't Talk
08 – Southern Breeze
09 – Boozy Vivienne
10 – What's Wrong
11 – Goddes of Destiny
12 – Good Night
Peter Ladwig (Vocals, Guitar)
Peter Knorn (Bass)
Arndt Schulz (Guitar, Vocals)
Nikolas Fritz (Drums)
PRE ORDER:
www.amazon.de/Constellation-Fargo/dp/B079LP6K8P
.