XYZ – XYZ [Axe Killer remaster +1] Out Of Print
This baby was requested here as well, XYZ self titled debut remastered by Axe Killer / Bad Reputation records including a bonus track.
Part of the hair metal movement but more melodic hard rock oriented sound-wise, XYZ were considered the unofficial house band of the Los Angeles nightclub The Whiskey in the mid-80s.
XYZ began in LA, California, with members Terry Ilous (vocals), Bobby Pieper (guitar), Patt Fontaine (bass) and Joey Pafumi (drums), the latter later replaced by Paul Monroe.
An early development deal with Atlantic / Enigma Records led to the recording of their debut album produced by Don Dokken, which quickly got radio play with the hits "Inside Out" and "What Keeps Me Loving You."
Great rocking melodious album with a pristine but punchy remastered sound.
HIGHLY Recommended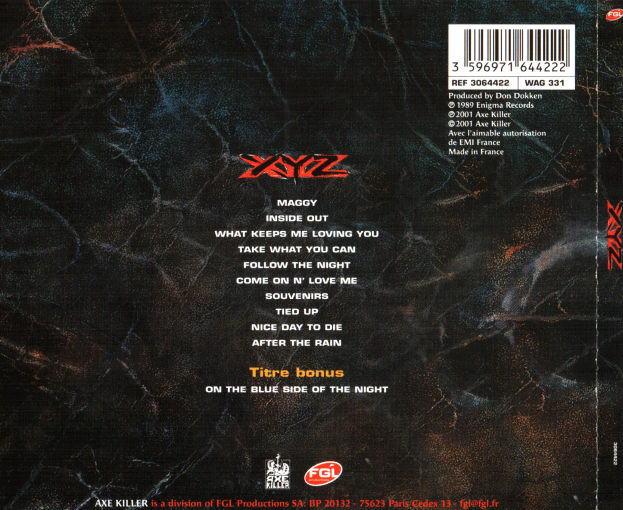 01 – Maggy
02 – Inside Out
03 – What Keeps Me Loving You
04 – Take What you Can
05 – Follow The Night
06 – Come On N' Love Me
07 – Souvenirs
08 – Tied Up
09 – Nice Day To Die
10 – After The Rain
BONUS TRACK:
11 – On The Blue Side Of The Night (B-side)
Terry Ilous – vocals
Marc Richard Diglio – guitars, backing vocals
Patt Fontaine – bass, backing vocals
Paul Monroe – drums, backing vocals
Try here:
www.amazon.fr/Axe-Killer-Originals-XYZ-Xyz/dp/B003N3DMDS
.