GRAND PRIX – There For None To See [remastered +1]
To complete their discography, here's GRAND PRIX second album for RCA "There For None To See", originally poorly distributed / promoted due to legal troubles. Unknown by many, here's the remastered reissue.
Commonly praised for their 3rd, close to perfection melodic rock / AOR final album 'Samurai', Grand Prix's second effort "There For None To See" is often ignored in everyone's favorite lists, however it's a brilliant one too.
Robin McAuley (later to achieve international fame with Michael Schenker) replaced original vocalist Bernie Shaw, and for the second album the band was focused to a more instant, appealing commercial sound.
"There For None To See" was a pivotal link between their early attempts at Pompy AOR in the self-titled debut, and the glossy production design of 3rd LP Samurai, being for many Grand Prix's most complete album.
And indeed it's a superb Melodic Hard Rock / AOR disc plenty of memorable songs, in fact, I can't find a filler here. All are great.
Just to name a few; opener "Heaven And Hell" and its awesome chorus and synths, the terrific pomp-infused "Troubador", the tinkling "Runaway" or the splendid Americanized AOR in "Take A Chance".
The wonderful "Keep On Believing" is the British answer to Journey while the atmospheric ballad "Paradise" is nothing short than perfect.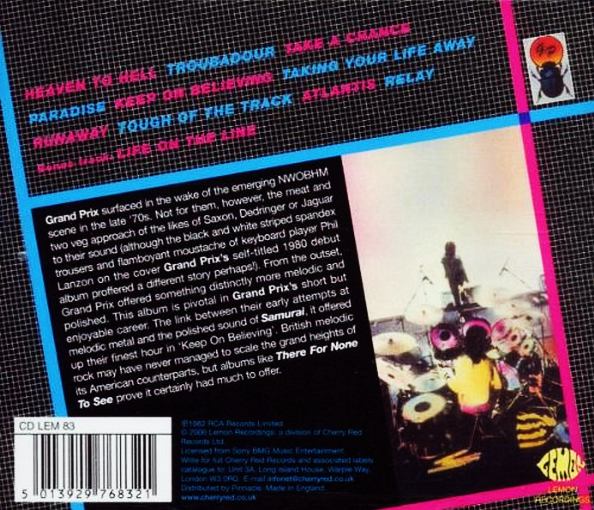 As said, the received zero promotion, and it didn't saw the light of day on CD after many years. This remastered release includes as bonus track another great song to treasure; "Life On The Line", originally appeared as B-side in the Keep On Believing single.
"There For None To See" is a class '80s record deserving a place into any serious AOR / Melodic Hard Rock collection.
Highly Recommended
01 – Heaven To Hell
02 – Troubadour
03 – Take A Chance
04 – Paradise
05 – Keep On Believing
06 – Taking Your Life Away
07 – Runaway
08 – Tough Of The Track
09 – Atlantis
10 – Relay
11 – Life On The Line [b-side] (Bonus Track)
Robin McAuley – vocals
Michael O'Donoghue – guitars
Phil Lanzon – keyboards
Ralph Hood – bass
Andy Beirne – drums
BUY IT !
www.amazon.co.uk/There-None-See-Grand-Prix/dp/B000FAOANI
.