ROBIN ZANDER – Robin Zander +1 [Japan HR-HM 1000 reissue series] (2018)
Universal Music Japan has started this year a more than welcomed campaign: the reissue of long time out of print albums from their catalog titled 'HR/HM 1000', that meaning Hard Rock / Heavy Metal at the price of 1000 Yen = about 9 USD.
While not exactly 'hard rock', Cheap Trick's vocalist ROBIN ZANDER first solo album "Robin Zander +1" is one of the best from the series, including a bonus track.
Unlike many lead singers of successful bands, Cheap Trick's Robin Zander waited until after the commercial fortunes of his band dissipated due to the change of the musical climate before offering his first solo album.
Originally appeared in 1993, his self-titled "Robin Zander" was a rare beast for the US musical industry at the time.
The album boast that typically polished, big budget production similar to 1989 releases.
Although fellow Trickster Tom Peterssen plays bass on one track ("Emily") and Rick Nielsen co-wrote another ("Secret"), Zander had aligned himself for this record with renowned California session men, such as Gregg Bissonette (DL Roth), Kim Bullard (Richard Marx, Heart), Steve Ferris (Kenny Loggins), Carlos Vega, Robbie Buchanan, guitar master Tim Pierce and countless more.
At heart, though, Zander doesn't deviate much from his work with Cheap Trick.
It's a balanced mix of taut melodic rock, power pop, heartfelt ballads, and tasty covers (Harry Nilsson's "Jump Into The Fire," Neil Young's "I Believe In You").
There's a catchy melodic rocker in "Reactionary Girl", "I've Always Got You" (co-written by J.D. Souther) is a perfectly pleasant midtempo AORish number, and the power ballad "Show Me Heaven" is that kind of 'if they'd made Top Gun II, this would have been on the soundtrack' sort of '80s tune.
"Everlasting Love" is inspired by classic American MOR, while "Time Will Let You Know" is another lovely ballad to showcase Zander's unmistakable voice.
To balance things, we find a duet with the DiVinyl's Christina Amphlett on the scuffling rocker "Tell It to the World".
"Secret" was written with the amazing songwriting team Billy Steinberg / Tom Kelly (i-Ten) along with Rick Nielsen, and yes, brings to mind Cheap Trick '80s stuff.
The Japanese release adds the bonus track "Stone Cold Rhythm Shake", only appeared as B-side for the German version of the "I've Always Got You" single.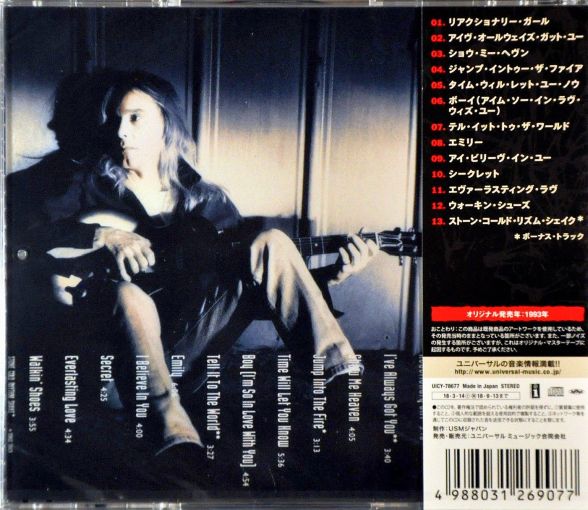 On this debut solo album, Zander digs through his classic rock collection to appropriate a wide variety of styles – almost every track has a different, recognizable feel.
It's fifty four minutes of well-crafted American rock delivered by one of the most-gifted vocalists and frontmen in Rock history.
As happens with these 'HR/HM 1000' series, "Robin Zander +1" isn't remastered, but this Japanese 2018 reissue sounds fantastic, with better Dynamic Range thanks the new digital transfer technique which augment the signal.
This lovely album has been more than 2 decades out of print, so having this fresh Japanese CD for less than ten bucks is a great deal.
Highly Recommended
You've seen it first here, at 0dayrox
01 – Reactionary Girl
02 – I've Always Got You
03 – Shw Me Heaven
04 – Jump Into The Fire
05 – Time Will Let You Know
06 – Boy (I'm So In Love With You)
07 – Tell It To The World
08 – Emily
09 – I Believe In You
10 – Secret
11 – Everlasting Love
12 – Walkin' Shoes
JAPAN BONUS TRACK:
13 – Stone Cold Rhythm Shake
Robin Zander – vocals, keyboards, guitar
Gregg Bissonette – drums
Kim Bullard – keyboards, synthesizers
Nathaniel Phillips, Richard Ruce, Tom Peterssen – bass
Carlos Vega – drums, drum programming, percussion
Mike Campbell – guitar, synthesizer, bass, keyboards
Robbie Buchanan, Bonnie Hayes – keyboards
Steve Ferris, Tim Pierce, Dave A. Stewart – guitar
Don Felder – guitar solo
Dr. John – piano
Mick Fleetwood – drums
Christina Amphlett – vocals duet on 7
Maria McKee – additional vocals, drum programming
JD Souther – additional vocals
Stevie Nicks – additional vocals
and many more
BUY IT !
www.cdjapan.co.jp/product/UICY-78677
.