NEW ENGLAND – Explorer Suite [Rock Candy remaster]
Another remaster by Rock Candy Records fans were waiting for it's the sophomore effort by the Boston-based super pompsters NEW ENGLAND: "Explorer Suite".
Produced by Mike Stone, who also worked with Queen, Journey and Asia, "Explorer Suite" is a very large-sounding work by a band that deserved to be as popular as Stone's other clients.
To the pomp of the debut album, on "Explorer Suite" New England fuel-injects a heavy, melodic rock element comparable to the greatest acts from the era.
Crammed full of incredibly energetic songs such as "Livin' In The Eighties", "Honey Money", "Searchin'" and "Hey You're On The Run", New England's penchant for melody was obviously second to none.
Additionally the band used also some great multi-vocal harmonies reminding the likes of Styx at their best, evident in the softer numbers as "Conversation", a nice change from the incessant bombast Stone and bandleader John Fannon splash on these tunes. It emerges as one of the best tracks on this release.
"It's Never Too Late" has a great, commercial catchy hook, but title track "Explorer Suite" is the 'big production' number, the 'We Will Rock You' showpiece that New England and this album are remembered for.
"Seal It With a Kiss" is rife with thick keyboards, backing vocals and classy '80s guitar, while "No Place to Go" is as elegant a ballad as Yes or Queen could devise, but with more of an edge and pomp-tastic.
New England had that 'cosmic edge', making the group truly a unique darling among arena rock bands, and having a group with this much talent performing at regional clubs was a treat.
Managed by Bill Aucoin who handled Kiss, major producers and a great sound, it's amazing that the band didn't sell millions of records. New England might have just been in the wrong part of the country for this style of music.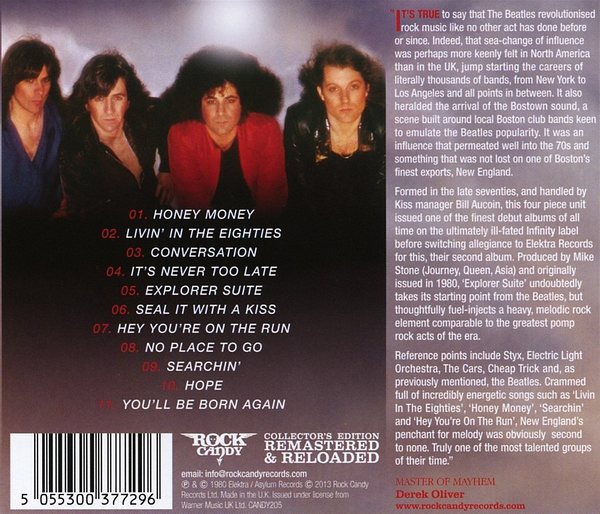 But with the years, "Explorer Suite" gained a deserved cult status among hard / melodic rock, AOR, pomp rock and even progressive rock fans world wide.
A more than welcomed remaster with a very good sound quality.
HIGHLY Recommended
01 – Honey Money
02 – Livin' In The Eighties
03 – Conversation
04 – It's Never Too Late
05 – Explorer Suite
06 – Seal It With A Kiss
07 – Hey You're On The Run
08 – No Place To Go
09 – Searchin'
10 – Hope
11 – You'll Be Born Again
John Fannon – guitars, vocals
Jimmy Waldo – keyboards, vocals
Gary Shea – bass
Hirsh Gardner – drums, vocals
BUY IT !
www.cduniverse.com/productinfo.asp?pid=9022694
.