NEW ENGLAND – New England [Japan Air Mail Archive miniLP Remastered] Out Of Print
As requested, here's the hard to find, out of print Japanese reissue of NEW ENGLAND self-titled debut album "New England" remastered by specialized label Japan Air Mail Archive released in a miniLP CD format replicating the original vinyl artwork.
As far I know, this is the only remastered version of this essential, seminal Pomp AOR record.
New England get noticed for the single "Don't Ever Wanna Lose Ya", which received heavy radio exposure on Album-oriented rock (AOR) radio stations and reached the Top 40.
The tune is considered one of the very first true AOR songs in the genre's history.
Founded in the second half of the Seventies in Boston by John Fannon (guitar & vocals), Hirsh Gardner (drums and vocals), Jimmy Waldo (keyboards and vocals) and Gary Shea (bass), New England broke out of the local scene with the release of their self-titled album on Infinity/MCA in 1979.
The album was produced by famed Mike Stone (Queen, Asia) and Paul Stanley of KISS, whom New England toured with for much of 1979 and 1980.
New England mixed like few commercially appealing FM radio melodies with lush lite symphonic arrangements, what was baptized as Pomp AOR. New England's sound has a resemblance to luminaries Boston, Journey and a rockier version of Foreigner, and when compared to those greats, it's not hard to see why these guys were revered in the same breath.
This debut album is a wonderful amalgam of soaring vocals, guitar power, keyboard wizardry, and brute strength drumming by talented Hirsh Gardner.
Some of more melodious moments are represented by the catchy opener 'Hello Hello Hello', 'Alone Tonight', 'Turn Out the Light' and later on the glorious ballad 'Shall I Run Away'.
Of course there's the anthem 'Don't Ever Wanna Lose Ya', but also rocking moments such as 'P.U.N.K. (Puny Undernourished Kid)' some kind of Sweet meets Queen, the pompy 'Nothing To Fear' (similar to Giuffria's Angel), and the energetic 'Shoot'.
Closer 'Encore' delivers a hint of what New England would do on their next album, a mix of guitar, keys and multi-part harmony vocals greatly orchestrated.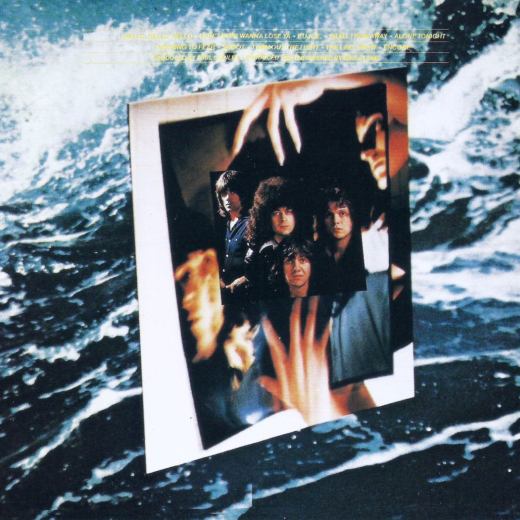 "New England" is essential to understand the evolution of oul beloved AOR genre, a seminal album plenty of Pomp magic. All these talented musicians are still involved in the music business in one way of another, and this record influenced dozens of bands in years to come.
This is a sweet remaster, the best sounding version of "New England" you can find, unfortunately out of print and which cries for a reissue as soon as possible.
You've seen it first here, at 0dayrox
Air Mail Archive ~ 【AIRAC-1645】
01 – Hello, Hello, Hello
02 – Don't Ever Wanna Lose Ya
03 – P.U.N.K. (Puny Undernourished Kid)
04 – Shall I Run Away
05 – Alone Tonight
06 – Nothing To Fear
07 – Shoot
08 – Turn Out the Light
09 – The Last Show
10 – Encore
John Fannon – vocals, guitars
Jimmy Waldo – keyboards
Gary Shea – bass
Hirsh Gardner – drums, percussion
SOLD OUT:
www.cdjapan.co.jp/product/DAKAIRAC-1645
.