KING ZEBRA – King Zebra (2019)
Simply titled "King Zebra", this is the new release by Swiss rockers KING ZEBRA. The band was founded in 2012 with one goal in mind: create infectious '80s arena-ready classic rock. The group released a couple of albums, but now, after some line up changes, are determined to firmly establish themselves into the melodic hard rock circuit.
One of the most significant changes in the King Zebra camp is the addition of New Jersey born and ex-China vocalist Eric St. Michaels. St. Michaels has provided 'that' necessary American feeling to the band's 80s inspired glammy melodic hard rock, and now all sounds pretty 'L.A. Sunset Strip'.
The band's style is a wink and smile to all the music that made the Eighties a great time to rock. All the songs are large on catchy rhythm and groove with big riffs, loud drums, daring solos, and refrains you can sing along to.
Songs like 'Bad Reputation' (Motley Crue meets Tuff) the guitar leads fly like an eruption of bottle rockets, the titled as the band 'King Zebra' with its sharper guitar work / melodic refrains, and the hair metal-ish 'Like A Hurricane' (complete with cowbell) are the best examples of what these guys from Switzerland are all about.
'That's What I Like' adds an Eighties poppy Poison-like melody, while 'Firewalker' is punchier with some kind of L.A. Guns groove to it. As extra, there's the band previous material, to taste their evolution.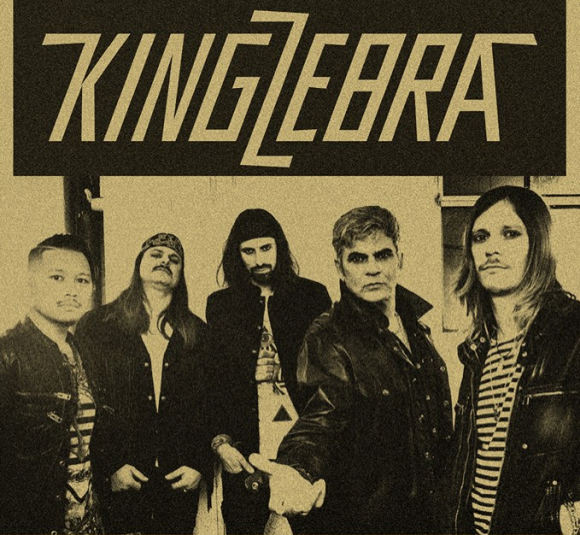 All in all, "King Zebra" is a cool entertaining shot of classic '80s US melodic hard rock. The band know the tricks of the genre: catchy choruses, melodic guitar lines, strong & clean vocals, cowbell, etc.
If you like your glam / hard rock strongly infused by '80s hooks (including cliché), check out King Zebra's new stuff. It's all good.
01 – Bad Reputation
02 – King Zebra
03 – Firewalker
04 – Like A Hurricane
05 – That's What I Like
06 – The Roar!
07 – Wild Animals
08 – Never Stop Trying
09 – Penny Hollywood
10 – Welcome to Longstreet
11 – One By One
12 – Point of No Return
13 – Whiskey
14 – Purple Roses
15 – Too Many Rules
16 – Good Time
Eric St. Michaels – Lead Vocals
Lauer – Lead Guitar, Vocals
Jerry – Rhythm Guitar, Vocals
Michael – Bass, Vocals
Ben – Drums
BUY IT !
www.kingzebra.ch
.