SAMMY HAGAR – Danger Zone [Rock Candy Remastered & Reloaded] (2019)
Rock Candy specialists have just released a 'Remastered & Reloaded' of SAMMY HAGAR fifth studio album "Danger Zone". For this record, Hagar recruited British engineer Geoff Workman fresh from recording Journey's album Infinity.
That wasn't the only Journey connection as both vocalist Steve Perry and guitarist Neal Schon made guest appearances helping to showcase a collection of tracks and a production that propelled Hagar's stature ever upwards.
By the time of "Danger Zone", 1980, Sammy Hagar hadn't yet found the key to AOR and Melodic Rock greatness, but a some tracks here indicated he was slowly inching his way toward it.
The advantage he had over his contemporaries was his skill as a songwriter. That later become more obvious when he took over from David Lee Roth in Van Halen, (and led the band to four career peak albums).
There's a great melodic rocker on 'Love Or Money' including a trademark Neal Schon guest solo, and the rocking '20th Century Man' is one of the best on the CD. Songs whose skeletal riffs never settle into a too comfortable groove, each heavy boned, but light on its feet, constantly pushing Hagar along with a relentless rhythmic pulse.
The sinister strains of 'In The Night (Entering The Danger Zone)' is one of the most complete Hagar songs ever, with up and down tempos a a classy atmosphere.
Of them all though, 'In The Night' and 'Run For Your Life' (co-produced by Tom Scholz, with Steve Perry on harmony vocals) captured the AOR sensibility that Hagar was clearly after, combining the sound of the street with hookily commercial content.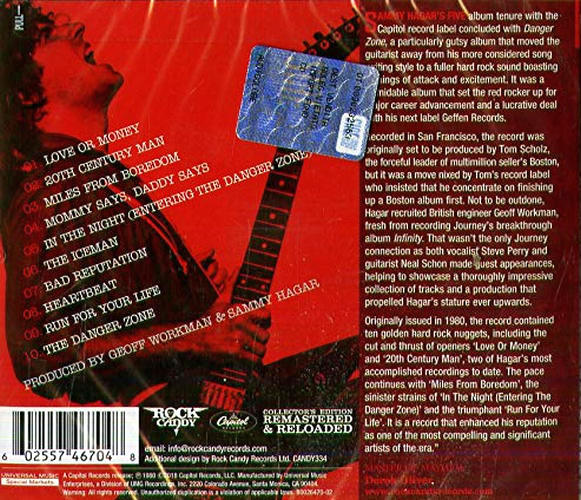 "Danger Zone" was Hagar's last album for Capitol Records. The following year he signed up with Geffen and went on to achieve spectacular gold and platinum solo success, thus alerting Eddie Van Halen.
As always, Rock Candy's backroom boys get the compression / volume equation just right in the remastering suite. Hard to believe this was recorded 38 years ago.
Highly Recommended
You've seen it first here, at 0dayrox
01 – Love Or Money
02 – 20th Century Man
03 – Miles From Boredom
04 – Mommy Says, Daddy Says
05 – In The Night (Entering The Danger Zone)
06 – The Iceman
07 – Bad Reputation
08 – Heartbeat
09 – Run For Your Life
10 – The Danger Zone
Vocals, Guitar – Sammy Hagar
Guitar, Keyboards – Gary Pihl
Bass – Bill Church
Drums – Chuck Ruff
with:
Guitar solo on 1 – Neal Schon
Backing vocals on 1, 6, 9 – Steve Perry
Drums engineered by Tom Scholz (Boston)
Add. Keyboards, Producer – Geoff Workman
BUY IT !
www.rocktemple.it/shop/5428
.