MICHAEL SCHENKER FEST – Revelation [Digipak +3] (2019)
MICHAEL SCHENKER is a legendary figure in rock, one of the most gifted and influential guitarists of all time. His work with Scorpions, UFO and the Michael Schenker Group made him a hero to millions of fans and inspired a generation of musicians.
'There is a deep meaning in the title and album cover of the new MICHAEL SCHENKER FEST album', says Michael Schenker. 'It illustrates my musical life at a glance with much to be revealed. Because of that I called the album 'Revelation''.
Having played non-stop since his days with Scorpion and UFO, the German virtuoso has always enjoyed flying solo, but he's, of course, best known for his works with said bands and for being Rudolf Schenker's baby brother.
Being with MSG, McAuley/Schenker, Michael Schenker's Temple of Rock or now with Michael Schenker Fest, the riff master kept true to his roots and constantly provides tasteful hard rock akin to the late 70s / early 80s with some small glimpses of metal here and there, and 'Revelation', second record by this particular party, follows exactly that same path.
In the promo sheet, Schenker himself states the following: "There is a deep meaning in the title and album cover of the new Michael Schenker Fest album. It illustrates my musical life at a glance with much to be revealed. Because of that, I called the album "Revelation".
Another title for this album could have been "Purity and Passion versus Greed and Corruption". OK, so how does this whole "we're purists and we're here to save rock 'n' roll from the evil claws of mass-produced radio-friendly garbage" translates into the music contained here?
Well, this is a very heterogeneous album for hard / heavy standards, let's start with that, which is a good thing, given the fact that there are thirteen songs here.
I won't say that there are influences here – because come on, the guy is shredding his guitar since before 90% of us were born – but there are definitely similarities with other bands and elements of the hard rock world.
The bluesy hard riff "Crazy Daze", for instance, borrows much from the David Lee Roth-era Van Halen, while "Lead You Astray" has a very cool Hardline / Warrant vibe akin of the early '90s.
There are small glimpses of Schenker's other acts like MSG and UFO in songs such as "Under a Blood Red Sky", "Sleeping With the Light On" and "Old Man" as well, which makes the experience more varied as a whole.
Curiously enough, it's when Schenker and company go the full speed that they're at their best. "The Beast in the Shadows", "Still in the Fight" and the instrumental "Ascension" showcase the best instrumental and songwriting in the album, not to mention some killer vocal performances in the former two tracks.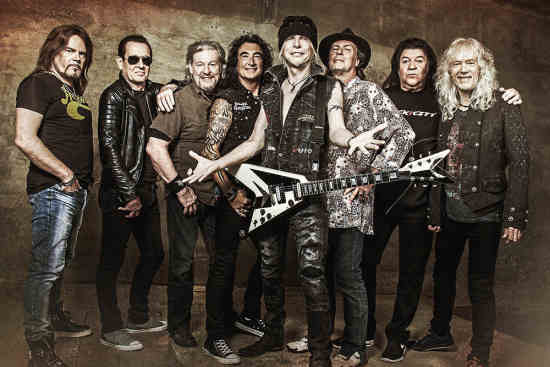 The vocals, for that matter, are probably the best thing about 'Revelation'.
Gary Barden, Graham Bonnet, Robin McAuley, and Doogie White all provide awesome performances and there's no key out of tune here, and there's even a guest appearance by Rainbow's Ronnie Romero on "We Are the Voice".
These are well-seasoned veterans and all have different pitches and vocal ranges, so the already heterogeneous nature of the album is amplified by this particularity, even if this sometimes becomes a little bit overwhelming to follow.
This wouldn't be a Michael Schenker album if there were no pure, no-frills rock 'n' roll moments, though, so that's why we have "Headed for the Sun" and "Blood Red Sky", for instance. There's a lot of old school energy put into these tracks, a necessary approach to captivate longtime Schenker fans.
As I mentioned above, all musicians here are old-timers and know exactly what they're doing. Besides Schenker and the frontmen, Steve Mann (guitar, keyboards), Chris Glen (bass) and two drummers in Simon Phillips and Bodo Schopf lend their strengths to the endeavor.
"Revelation" is classic Schenker, this is 'classic rock', this is timeless, and this is very, very good.
There's something for everyone here, from melodic hard rockers to '80s metallic songs to superb intrumental.
You can't go wrotng with these beasts… HIGHLY Recommended
01. Rock Steady
(feat. Gary Barden, Graham Bonnet, Robin McAuley & Doogie White)
02. Under a Blood Red Sky
(feat. Doogie White)
03. Silent Again
(feat. Robin McAuley)
04. Sleeping with the Light On
(feat. Gary Barden, Graham Bonnet, Robin McAuley & Doogie White)
05. The Beast in the Shadows
(feat. Graham Bonnet)
06. Behind the Smile
(feat. Doogie White)
07. Crazy Daze
(feat. Gary Barden)
08. Lead You Astray
(feat. Robin McAuley)
09. We Are the Voice
(feat. Ronnie Romero)
10. Headed for the Sun
(feat. Gary Barden)
11. Old Man
(feat. Gary Barden, Graham Bonnet, Robin McAuley & Doogie White)
12. Still in the Fight
(feat. Graham Bonnet)
13. Ascension
Digipak BONUS TRACKS:
14. Armed and Ready (Live)
15. Bad Boys (Live)
16. Rock Bottom (Live)
Michael Schenker – Guitars, Vocals
Robin McAuley – Vocals
Gary Barden – Vocals
Graham Bonnet – Vocals
Ronnie Romero – Vocals
Doogie White – Vocals
Steve Mann – Guitar, Keyboards
Chris Glen – Bass
Bodo Schopf – Drums
Simon Phillips – Drums
Pre Order:
www.amazon.co.uk/Revelation-Barden-Graham-Bonnet-McAuley/dp/B07STGYCVH