PJ RAUTIAINEN – Secret Isle (+3 exclusive Bonus) Out Of Print
Requested by one of you, here's the out of print, Finland only release by exquisite singer / songwriter PJ RAUTIAINEN, titled "Secret Isle". PJ (Pekka) sang on 2 excellent Melodic Rock albums with the band HOUSE OF MIRRORS during the 2000s, but left that band to start a solo career which resulted in "Secret Isle", his full-length debut album from 2010, a delicious slice of classy AOR tunes.
While searching for PJ's news / new material, it was shocking to read that he passed away in 2017. A great loss, such young and talented musician… A Scandinavian music collector (friend of 0dayrox's team) provided us with 3 unreleased songs RAUTIAINEN recorded few years ago in collaboration with another gifted Finnish musician: Tomi Malm (check out his album HERE)
On "Secret Isle" PJ RAUTIAINEN offers high quality hookladen Westcoast / AOR in the best early '80s L.A. tradition of acts like DAVID ROBERTS, MARK SPIRO, JOE PIZZULO, JAY GRUSKA, TIME GALLERY, TOTO (first albums) and a Melodic Rock side where URBAN TALE, CROSSFADE, HEARTPLAY come to mind, while CHICAGO and even some DAKOTA similarities can be heard here and there.
The record opens with title track "Secret Isle", a wonderful West Coast/AOR smooth song with beautiful melodies and a strong chorus. "Falling For You" is reminiscent of CHICAGO mixed with TOTO, soft and easy listening.
"Every Time When It Rains" is a light-weight rocker again strongly influenced by TOTO featuring an effective early Eighties AOR chorus.
Then "This Burden" is an awesome midtempo tune that has JOURNEY influences written all over and makes me think of MARK SPIRO best moments.
I got a smirk on my face when listening to the saxophone playing loudly on "Hey Brother", it felt like hearing to some classic stuff from HALL & OATES, seriously. The bluesy laid back style ballad "Show Me The Way" adds a touch of class to the record and PJ's vocals here are more up in the mix, showcasing his abilities as crooner.
The intro of "Burning" reminds me a bit of Stevie Wonder's 'Superstition'. A soulful tune, very very groovy.
There's also some songs in the vein of mid-80s rock&pop acts (like "Promise You", sounding a lot like CHRISTOPHER CROSS), not strictly AOR / Westcoast, but with a high level of musicianship and quality.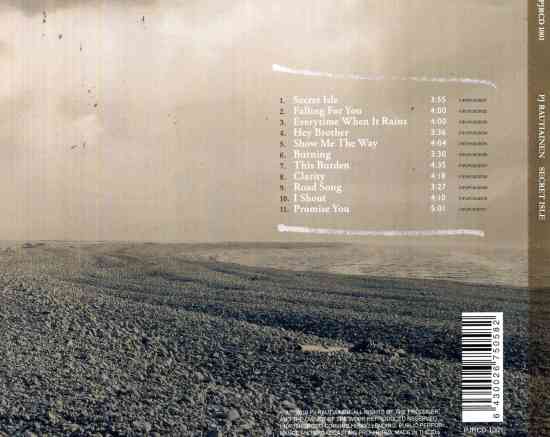 The strong songwriting and PJ's tasteful vocal work, along with some beautiful harmony vocals, good expertly players (all from Finland) and excellent production for an indie release, makes this album an absolute delight for anyone who appreciate quality music. Classic AOR fans will most definitely instantly fall in love with the record.
Perhaps one of the finest Scandinavian Westcoast / AOR releases of the decade, that unfortunately passed unnoticed to the major audience when released.
"Secret Isle" is a real pleasure, and as extra enjoy the unreleased tracks, equally palatable as all the material on this wonderful CD.
Pekka himself dropped a comment in this post years ago when it was originally featured at 0dayrox… R.I.P. Pekka, your music will live forever.
HIGHLY Recommended
Only at 0dayrox
01 – Secret Isle
02 – Falling For You
03 – Everytime When It Rains
04 – Hey Brother
05 – Show Me The Way
06 – Burning
07 – This Burden
08 – Clarity
09 – Road Song
10 – I Shout
11 – Promise You
EXTRAS (unreleased):
12 – Falling Over You (with Tomi Malm)
13 – Have A Little Faith (with Tomi Malm)
14 – Never Walk Away (with Tomi Malm)
Pekka Rautiainen – vocals,backing vocals
Anssi Nykänen – drums
Harri Rantanen – bass
Tuomo Vähä-Pesola – keys
Seppo Tyni, Kari Riihimäki, Jouni Saarinen – guitar
Jukka Perko, Mikko Karjalainen – horns
Mongo Aaltonen – percussion
Kadi Vija – backing vocals
Try Here:
jaansarkija.fi/kauppa/country-blues/secret-isle/