ST. PARADISE – St. Paradise [Rock Candy Remastered & Reloaded]
Regarded as a cult classic, ST. PARADISE's sole self-titled album has been freshly remastered by Rock Candy Records. This is a classic rock / traditional hard rock record yet plenty of melody criminally overlooked when originally released and one deserving a reissue.
Indeed, St. Pardise were a power trio that barely registered on the radar, despite the members' impressive musical accomplishments, that were very much in keeping with the late 70s hard rock zeitgeist.
It was, in all fairness, a strange state of affairs that belied the quality of the music and drew attention to the fast shifting sands and volatile nature of the music business.
St. Pardise was founded by two former members of Ted Nugent's band; singer / guitarist Derek St. Holmes and bassist Rob Grange. Nugent, of course, was one of the biggest names on the hard rock scene during the second half of the decade, but it remained largely unknown that the vocals on Ted's records were mostly supplied by St. Holmes, a man that had lived in the shadow of Ted's enormous presence.
Joining them on drums was Denny Carmassi whose accomplishments already included a four album stint with Montrose, one of the era's most revered acts. He was also a member of Sammy Hagar's solo band, appearing on two of his albums. As guest keyboard player, there's John Corey (later to join The Eagles backing band).
Enlisting the help of producer Mike Flicker (Heart, Trooper) the band recorded their sole album for the Warner Brothers label, establishing a sound very much informed by their previous outfits, yet keeping a keen eye on the future, upcoming American melodic hard rock wave.
They released the debut in 1979, and if nothing else St. Paradise confirms just what a great loss Derek St. Holmes was to Nugent's Band and indeed, just how much Nugent depended on him for his band's vocal sound.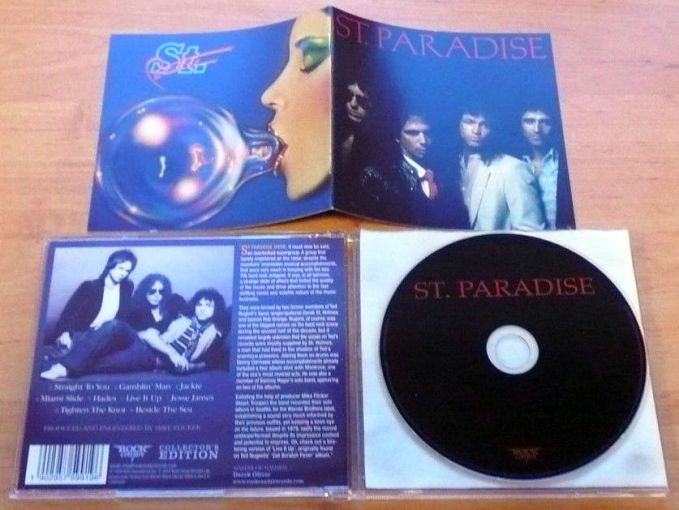 The overall sound is arena hard rock, however St. Holmes' superb singing turn things really melodic leading you through a joy of an album. No swagger a la Nugent, no loud mouthing, no gonzoid, just effective crafted hard rock music.
"Straight to You" is a straightforward rocker and a proper opener for what's to come. Then 2nd track is one of my favorites; "Gamblin' Man" rocks with style and lots of melody where St Holmes gives a free lesson on just how to sing this genre.
One of their more creative moments arrives with "Jackie", gilding a stomping, four on the floor rock song with great backing vocals in the closing section.
A cover of the Nugent band's "Live It Up" (co-written by St Holmes) becomes a much more sophisticated beast than the one that raged and roared on Nugent's Cat Scratch Fever, with producer Mike Flicker and St.Holmes adding lithe, lightly airborne harmonies, lifting the song into the quietly anthemic.
Rocker "Miami Slide" adds a fun, slightly funky guitar work, "Hades" has a strong chorus and solid melody line, so beautiful in tone, with a nice acoustic guitar addition to the electric. St Holmes again shine with a splendid vocal work.
Another highlight is closer "Beside the Sea", a proto melodic rock joy with punchy guitar and some beautiful poetic lyrics.
When originally released, "St. Pardise"underperformed despite its impressive content and potential to impress. Over the years the LP become a collectors piece, much sought after by classic hard rock fans, especially Ted Nugent / Derek St. Holmes / Montrose fans.
The clicks and hisses you might expect from tape transfer when remastering from a recording this old are totally absent, and while to my ears this isn't among the best Rock Candy remasters, the album now has the bounce that was originally intended.
Strongly Recommended
01. Straight To You
02. Gamblin' Man
03. Jackie
04. Miami Slide
05. Hades
06. Live It Up
07. Jesse James
08. Tighten The Knot
09. Beside The Sea
Derek St. Holmes – vocals, guitar
Rob Grange – bass, backing vocals
Denny Carmassi – drums, backing vocals
with:
John Cory – keyboards
BUY IT
www.amazon.com/St-Paradise-ST-PARADISE/dp/B074JC5N3T