VAIN – No Respect [BGO records Digitally Remastered] HQ / out of print
This one was requested long time ago, the quite hard to find and now out of print, only remastered version available of VAIN's debut album "No Respect".
While they were undeniably 'glam' in the image department, Vain sounded like no other band back in the day of this release (1989) and that still rings true today. Listening to "No Respect" now, it still holds up.
Davy Vain had initially began his career as a record producer, producing Death Angel's debut album The Ultra-Violence before recording a demo with Metallica guitarist Kirk Hammett in 1986.
After that, Vain decided to form a band under his own moniker, adding bassist Ashley Mitchell, drummer Tom Rickard and guitarists Dylana Nova and Danny West to the lineup.
From 1986 to 1987, the band, along with Jetboy and Sea Hags helped solidify the San Francisco hard rock scene – contemporaries included more metallic acts like Metallica, Exodus and Death Angel.
Then Vain moved to Los Angeles, a circuit more suitable for their brand of music, where they also opened for Guns N' Roses prior to their success, and played at every Sunset Strip venue.
Vain gained a strong following and after showcasing to major record labels, Vain signed with Island Records in 1988. Co-produced by Davy & Paul Northfield, Vain released their debut album entitled "No Respect" in 1989 which peaked at number 154 on the Billboard 200.
Critically, the album was also well received, with Vain featured on the covers of both Kerrang! and BAM magazines. In support of the album, Vain toured the US while they also supported Skid Row on their UK tour.
"No Respect" is a unique album from the late 80s US hard rock scene. It's a glammy / sleazy rocking LP, some kind of a mix between Guns N' Roses, Ratt and Motley Crue at their most coarse and corrupted.
But, as the band heralded from the Bay Area (of the well known thrash scene of the same era), this album has a touch more balls than many of the big haired contemporaries.
The songs relies more on power riffs than sing along choruses, as 'Beat The Bullet' shows, while 'Who's Watching You' features a catchy riff with some Ratt on it, same with 'Secrets' (check the chorus).
The title track starts slow and melodic, but soon explodes into a hard rocking swagger, then 'Icy' is ridiculously catchy, riff-driven sleazy.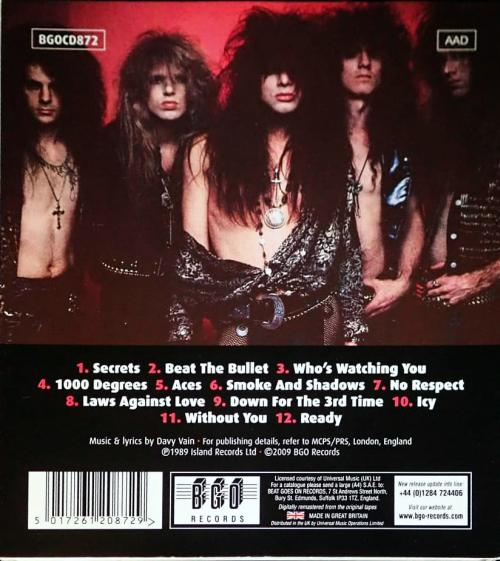 The combination of Davy's haunting vocals and the twin guitars of Jamie Scott and Danny West on "No Respect" were something that has never been equalled or bettered in my opinion by any late '80s US hard rock act. Name me one band who sound remotely like Vain? Angry riffs, sleazy metal solos and an overall ballsy attack.
While Vain – the band – never make it big, "No Respect" is regarded as cult classic, a unique album which still sounds relevant today. This BGO remaster (housed in card slipcase) does magic compared to the flat original CD release, and it's the one to get.
Killerrr
You've seen it first here, at 0dayrox
01 – Secrets
02 – Beat The Bullet
03 – Who's Watching You
04 – 1000 Degrees
05 – Aces
06 – Smoke And Shadows
07 – No Respect
08 – Laws Against Love
09 – Down For The 3rd Time
10 – Icy
11 – Without You
12 – Ready
Davy Vain – vocals
Danny West, James Scott – guitars
Ashley Mitchell – bass
Tom Rickard – drums
Eric LeMayne – keyboards (11)
out of print
www.amazon.co.uk/dp/B01M3XUZQB