SURVIVOR – Survivor [Rock Candy Remastered & Reloaded +1]
Part of the really good SURVIVOR remastered reissues by Rock Candy Records, their self-titled debut "Survivor" is the one more benefited by the fresh sonic treatment. Survivor's huge hit single 'Eye Of The Tiger' has tended to overshadow the band's body of work, despite them racking up a number of further hits, well known tracks and a string of classic albums.
Their brand of melodic yet tough AOR was seen as a central pillar in a wave of hugely successful North American bands; acts such as Journey, Foreigner, REO Speedwagon and Heart were all lighting up the American charts at a time when solid, guitar based rock with enormous hooks and superior vocals was all the rage.
No overnight success, Survivor's history, in various forms, dated back to the late sixties, with leader Jim Peterik forging a path to success by a single minded commitment to well written songs, supported by some of the best players he could lay his hands on; vocalist Dave Bickler and guitarist Frankie Sullivan in particular playing a major part in the band's developing sound.
This, Survivor's debut album, originally issued in 1980 and featuring a young Kim Bassinger on the cover, is an impressive piece of work containing all the elements that would later provide a springboard to international stardom.
The songs are dynamic, richly constructed, brightly produced (by Ron Nevison of Led Zeppelin, Heart & UFO fame) and combine just the right blend of melody and muscle.
Indeed, the track 'Youngblood' has been cited as the prototype for 'Eye Of The Tiger', one of a number of tracks that identify the band as superior craftsmen of a sound that later grew to dominate the American airwaves in the 1980s. A classic sound from a classic band.
Other highlights include opener 'Somewhere In America', 'Nothing Can Shake Me (From Your Love)' and the excellent 'Rebel Girl' included as bonus track o nthe Rock Candy remaster.
'Rebel Girl' was recorded about a year after the album sessions and released as 45RPM, though the Japanese release of the album on CD includes it as song number six.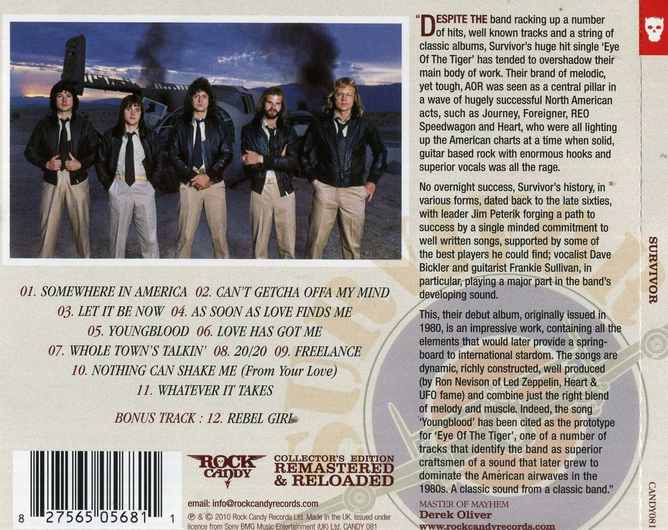 "Survivor" was the band's debut and although there were already signs of their AOR future, this album sounded a lot more straightforward melodic hard than their later releases. Think of early Foreigner and you get the picture.
This Rock Candy 24-bit remastering job has rescued some buried guitar harmonics and provide more bass presence, and truly sounds great. Plus, there's the great, not easy to find single 'Rebel Girl' and rare photos / Jim Peterik interview talking about the genesis of Survivor.
HIGHLY Recommended
01 – Somewhere In America
02 – Can't Getcha Offa My Mind
03 – Let It Be Now
04 – As Soon As Love Finds Me
05 – Youngblood
06 – Love Has Got Me
07 – Whole Town's Talkin'
08 – 20-20
09 – Freelance
10 – Nothing Can Shake Me (From Your Love)
11 – Whatever It Takes
12 – Rebel Girl [bonus track]
Dave Bickler – lead vocals, keyboards
Jim Peterik – guitar, vocals, lead vocals on 6
Frankie Sullivan – guitars, vocals
Dennis Keith Johnson – bass, Moog pedals
Gary Smith – drums, percussion
BUY
www.amazon.co.uk/Survivor/dp/B003U0I996