THE PRODUCERS – Run For Your Life [YesterRock remaster / first time on CD]
This one was repeatedly requested here: "Run For Your Life", the last album from THE PRODUCERS (recorded 1985), released for the first time ever on CD by YesterRock, fully digitally remastered.
Not to be confused with other project from UK, this THE PRODUCERS were formed in Atlanta, Georgia, at the very end of the Seventies and used to play high energy power pop, and on this particular "Run For Your Life" – their third and last album – mixed with a high dose of stylized light AOR which turn to be a much sought after piece by collectors.
At the early '80s, The Producers began to compose own songs and performed them in numerous clubs in the metropolitan area of Atlanta. The original line-up included Van Temple on guitars and vocals, former Whiteface member Kyle Henderson on bass and vocals, former Billy Joe Royal sidekick Wayne Famous (real name: Wayne McNatt) on keyboards and Bryan Holmes on drums.
Their appearances had great demand and were steadily gaining popularity by the audience. With this success, they signed a record deal at Portrait Records / CBS (same of Wilson sisters Heart's label) under the direction of producer Tom Werman, who had also worked with Cheap Trick and REO Speedwagon.
In 1981 the first album of 'The Producers' was released. The single 'What She Does To Me' went to number 61 of the Billboard Charts. The second album 'You Make The Heat' was published 1982. The single 'She Sheila' made it again to the charts, with the videos were all over the channel in the first year of MTV.
Many live concerts followed, among others The Producers were support act for Cheap Trick and The Motels. But despite the success, Portrait Records resigned the contract after 2 albums only.
The Producers next work "Run For Your Life" was released through a small independent record label in Atlanta and pressed on vinyl only. The LP distribution wasn't the best, hence the album pretty hard to find.
At that point The Producers were working together with the band Kansas, so it might not come as a surprise that the song "Can't Cry Anymore" featured here (track 5) can be found as well on "Power", the 1986, most mainstream AOR album from Kansas.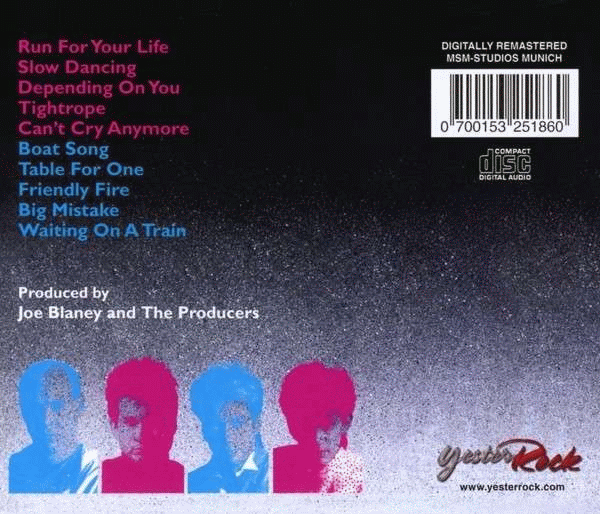 The Producers' sound & style on "Run For Your Life" is not so 'pumping' as the more intense AOR bands from the era, but it was 1985, so expect catchy choruses, commercial melodies, lots of keyboards and a clean, polished production.
For the first time ever this 'lost treasure' was released on CD by the excellent, now sadly defunct reissue label YesterRock. Many AOR fans from all over the world have been frequently asking for this album – their burning desire was heard and finally comes to fulfillment.
Highly Recommended
01 – Run For Your Life
02 – Slow Dancing
03 – Depending On You
04 – Tightrope
05 – Can't Cry Anymore
06 – Boat Song
07 – Table For One
08 – Friendly Fire
09 – Big Mistake
10 – Waiting On A Train
Van Temple – Vocals, Guitar
Wayne Famous – Keyboards, Vocals
Tim Smith – Bass
Bryan Holmes – Drums, Vocals
Luis Stefanel – Percussion
BUY
www.grooves-inc.com/producers-the-run-for-your-life-yesterrock-cd-album-pZZa1-1898505891.html