JARI TIURA – King Of Lions (2018) 0dayrox exclusive
Finnish vocalist JARI TIURA – ex Michael Schenker Group and current Stargazery – is releasing his debut solo album "King Of Lions" via AOR Heaven Records.
The album is a bit different from Jari's previous works, having more of an AOR feel to it but also with a genuine hard rock vibe.
As vocalist, Tiura has been strongly influenced by Ronnie James Dio, something you can appreciate in his very good two recorded albums with Stargazery (both featured here on this blog), already a band with a noticeable Rainbow-like sound.
He owns a powerful voice with some range, which wraps around the melody and harmony of every song in "King Of Lions", much more melodic than ever before.
Musically, the album is mostly melodic hard rock oriented with a little edge, yet wrapped in AOR accessibility. The hard rock angle comes from the inherent big beat and groove present in every arrangement. The edge arrives from the sharp guitar riffage, the sometimes heavy bottom end, and the blistering guitar solos, which are abundant and killer from Yrjo Ella – new to me, but he's the bomb when it comes to guitar work
The AOR presence is informed by all these things, but mostly from the deliberate melody and keyboard presence, also from the attention to catchy and memorable refrains.
As a whole, "King Of Lions" is the perfect storm of classic metal-infused AOR melodic hard rock album.
Every song here is interesting, entertaining, and so, satisfying, cleverly arranged to create very solid pieces of timeless Rock music.
My favorite is the very catchy melodic hard rocker 'Friends And Foes', but also the midtempo bass-pumped AOR of 'London', the inspirational 'Take On The World' (akin Black Sabbath / Tony Martin circa 1987), and the guitar-driven monsters 'Blue Sky Lightning' and 'Away From All The Magic and Wonder', the latter with a strong classic Hammond organ all over.
Then, to balance the CD, a fine piano based ballad comes with 'Lion Of Judah', with a certain Scandi sound.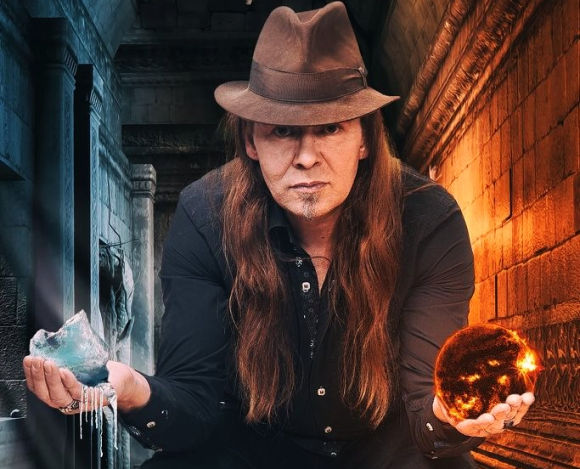 Despite of his more 'classic hard rock' pedigree as vocalist Jari Tiura's debut "King Of Lions" perfectly fits the AOR Heaven Records roster. As said, Tiura's vocal style has a strong Dio influence, but he turned the performances here much more melodious.
The result is some kind of 'heavy AOR', and I like it.
The album cover artwork (very good) and the promotional photos give you a hint of it: fire and ice, power and melody, rocking riffs and melodic vocals / keys.
Highly Recommended
You've seen it first here, at 0dayrox
01 – Away from All the Magic and Wonder
02 – London
03 – Friends and Foes
04 – Human
05 – Lion of Judah
06 – Dreamchaser
07 – Silent Moon
08 – Take on the World
09 – Blue Sky Lightning
Jari Tiura – vocals
Yrjo Ella – guitars
Jaan Wessman – bass, drums
Jussi Kulomaa, Mikko Kangasjarvi – keyboards
Jani Kemppinen – keyboards, synths
PRE ORDER:
www.amazon.de/King-Lions-Jari-Tiura/dp/B07B8P229H
.