STRIKER – Play To Win [Japan Edition +2] (2018)
Canadian rockers STRIKER are back with their sixth studio album, "Play To Win", on October 26, but tomorrow will be released in Asia, this Japanese edition including 2 exclusive bonus tracks
Mixing with ease classic traditional metal, hard rock and '80s hair metal, "Play To Win" is just another killer collection of fist-pounding, shredtacular anthems produced by the band, with mixing and mastering by Hendrik Udd (Firewind, Delain).
From the very first second in the opening tune 'Heart of Lies' where the band delivers their usual @ss-kicking fusion of '80s Metal and Hard Rock with frontman Dan Cleary declaiming the song's chorus beautifully ("Another victim to a heart of lies / Can't see the truth behind those venom eyes / Another victim to a heart of lies / On deaf ears will fall the eagle's cry") you know this album will rock your socks off.
Then leaning towards pure '80s Hard Rock and Glam Metal (in special the crisp and passionate melodic vocal lines) we have 'Position of Power' with the rhythm section maintaining a solid and rumbling background throughout the entire song, followed by the catchy and commercial 'Head First', which at the same time brings Striker's old school punch, sounding very rhythmic, groovy and melodic.
In addition, on all these numbers both guitarists Tim Brown & Chris Segger are once again on fire with their riffs and solos, making it a highly recommended addition to your road trip playlist.
Blending their NWOBHM influences with, let's say, Motley Crue meets 1985 Iron Maiden meets Van Halen, which in the end resulted in sheer awesomeness, Striker offer us the thrilling 'On The Run', showcasing a brilliant vocal performance by Dan while William Wallace keeps extracting that metallic sound we all love form his bass
'The Front' is another classic song by Striker, also feeling as it was taken from an '80s Hair Metal album with a crisp guitar sound and an anthemic chorus.
In title-track 'Play To Win', a midtempo feast of clean melodies, the band sounds even more inspired by the golden years of Hard Rock than ever, with the guitar riffs and solos by both Tim and Chris getting sharper and groovier, and albeit its lyrics are extremely cheesy, the message the band wanted to send is there (and that's what really matters in the end).
Another proof of Striker's '80s vibe on this new album (check the cover artwork) is the power ballad 'Standing Alone', soulful and plenty of 'that' atmosphere.
Back to a heavier and more epic sonority, those talented Canadian fire an electrified metallic hard rockin' tune entitled 'Summoner', inspired by many classics by Iron Maiden, Judas Priest and other behemoths from the NWOBHM, also presenting the best guitar work of the entire album in my opinion.
In 'Heavy Is The Heart' the band shows how to do a proper melodic metal ballad, bringing passion to the musicality without forgetting the always needed dosages of electricity and rage, again presenting an inspired Dan leading his bandmates from start to finish.
Then comes more variation with 'Hands Of Time', a midtempo melodic hard rock tune even with bit of AOR on it, clean guitars, subtle keyboards in the background, melodic verses and a tuneful guitars solo. Great song.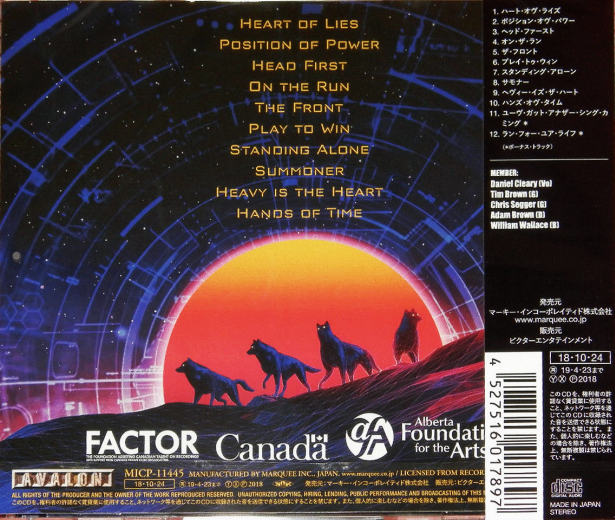 The bonus tracks on this Japanese edition worth the investment: "You've Got Another Thing Coming" is a cover of the Judas Priest classic, done with melodic hard rock feel akin Dokken meets Crazy Lixx. You'll love this version.
Then there's 'Run For Your Life', recorded by Striker for 'Friday the 13th: Killer Puzzle' soundtrack, a 2018 horror puzzle video game for iOS, Android and Steam. A fantastic version with all that '80s movie glam / hard rock feel.
Striker surpassed themselves with "Play To Win", a fantastic mix of '80s melodic hard rock with classic, traditional melodic metal, all done with catchiness and superb musicianship.
Production is top notch, and there isn't a weak song here. Do yourself a favor and grab this baby now. A year's highlight for sure.
HIGHLY Recommended
01. Heart Of Lies
02. Position Of Power
03. Head First
04. On The Run
05. The Front
06. Play To Win
07. Standing Alone
08. Summoner
09. Heavy Is The Heart
10. Hands Of Time
JAPAN BONUS TRACKS:
11. You've Got Another Thing Coming
12. Run For Your Life (Friday the 13th Killer Puzzle soundtrack)
Dan Cleary – lead vocals
Tim Brown – lead and rhythm guitar
Chris Segger – lead and rhythm guitar
William Wallace – bass
Adam Brown – drums
guests:
Randy Black – drums (session)
Lindsay Robinson, John Kennedy, Nathan Schadeck – gang vocals
BUY IT !
cdjapan.co.jp/product/MICP-11445
.