CIRCUS MAXIMUS – Nine Live [Japan Edition +2 New Studio Tracks] (2019)
Norwegian melodic progsters CIRCUS MAXIMUS just released "Nine Live", a live performance of songs from their album 'Nine', featuring indeed, 9 tracks. This Japanese edition – the only available on physical CD – include their new 2-track studio EP 'Isolated Chapters', recorded 2019.
Recorded Live at Sentrum Scene Oslo, Norway, "Nine Live" captures Circus Maximus at their best, showcasing the dexterity of these awesome musicians working together on stage as a perfect machine.
The versions of 'Architect Of Fortune', 'Reach Within' or 'The One' are terrific, expanded, and vital.
The new studio tracks are superb as well. The name of the EP refers the their album 'Isolate' (2007), in fact, the first ideas for the song 'Phasing Mirrors' were written after the release of that album. While the sound and some of the parts are based on the song 'Mouth of Madness', it isn't a direct follow up, but it could fit the darkness that is the 'Isolate' album.
It was later suppose to the be a bonus track on the 'Nine' album, but the according to the band the atmosphere did not fit and the song was put on hold.
Then after many years Circus Maximus listened to the pre-production recordings and decided to finish it.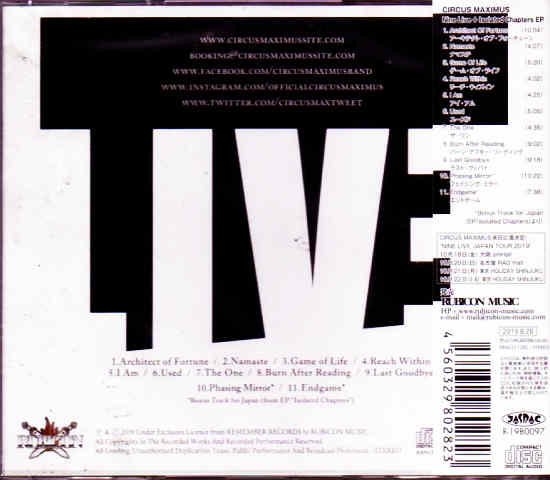 Really good album from one of the finest progressive acts out there.
Highly Recommended
Rubicon Music ~ 【RBNCD-1282】
01. Architect Of Fortune
02. Namaste
03. Game Of Life
04. Reach Within
05. I Am
06. Used
07. The One
08. Burn After Reading
09. Last Goodbye
JAPAN BONUS: Isolated Chapters 2-track Studio EP
10. Phazing Mirror
11. Endgame
Michael Eriksen / Vocals
Mats Haugen / Guitars
Lasse Finbraten / Keyboards
Glen Mollen / Bass
Truls Haugen / Drums
BUY IT
rubicon-music.com/archives/4213
diskheaven.shop-pro.jp/?pid=145145313