HOUSE OF LORDS – Sahara [Axe Killer / Bad Reputation remaster Ltd Edition +1] OOP
Taking a look the really good remastered releases of classic albums done by Axe Killer Records (now re-branded Bad Reputation) here's one that deserve attention: HOUSE OF LORDS second album "Sahara", including a bonus track.
HOUSE OF LORDS three first albums are masterpieces in classic Melodic Hard rock / AOR, each one different from each other. While the first is a pompous gem, the third is their 'mature', most elaborated and complete album.
And in between we have this "Sahara", the more 'easy' to the ears of the 3, but equally superb in songwriting, performances and the one with 'that' huge, glossy production style from 1990 courtesy of legend Andy Johns.
For this 2nd album, original guitarist Lanny Cordola was gone, and in was new guy Michael Guy. Although Guy is credited on guitar, in reality the album was recorded with Doug Aldrich (future Whitesnake axe man).
The impressive keyboard work of Gregg Giuffria is still here, Chuck Wright's monster bass lines and Ken Mary's precise drums, alongside mastermind James Christian on lead vocals.
"Shoot" opens with an atmospheric keyboard arrangement by Gregg Giuffria, and then explodes into a huge rocker, some kinf of a mix between Kingdom Come and 21 Guns. "Chains of Love" is Coverdale-lite, with singer James Christian pouring on as much sass as possible. Aldrich laid down a killer guitar solo as well.
Then there's the cover "Can't Find My Way Home" (Blind Faith original) which House Of Lords makes their own with a terrific crescendo tempo from acoustic to full on band. One of the better rock ballads of 1990, and one of the best HOL tracks ever.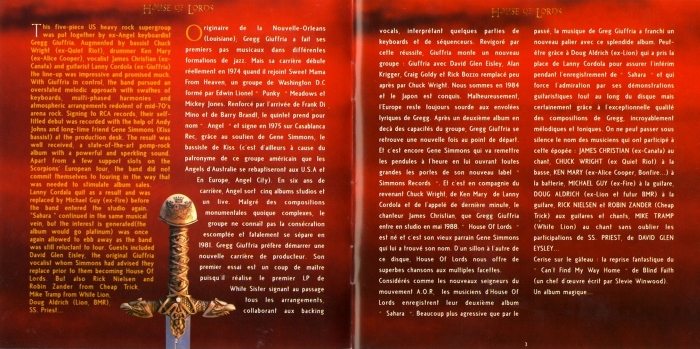 House of Lords turn a serious corner on "Heart on the Line", which sounds like a title for a ballad. This however is a speed racer, a chugging riff powering a rock-corker, which turns Cheap Trick on the chorus. Unsurprisingly, it was written by Rick Neilsen. Brilliant playing and soloing on this one (by Nielsen himself). And yes, before you ask, the track abruptly ends.
Then in 'Laydown Staydown' they turn melodic rock very much in the Winger style of the era with its anthemic chorus and keyboard fills.
Title track is really impressive, with a quite long intro where Giuffria shines and we have Ken Mary layering a tribal drum effect that would have been very ahead of its time in 1990. Then the song goes for melodic rock something more Winger-like as well, but it jumps from that back into more progressive sections, keeping things balanced and interesting.
Next there's another ballad, and a superb one called "It Ain't Love". Not just the title, but the main chorus reminds of Dokken. Some fine soloing resides here to sink your fangs into.
"Remember My Name" is the other cover song on the album, and chosen as lead single: a power ballad in its maximum, both in its classy midtempo and sound. Killer stuff.
Then arrives one of the 'inside cuts', which for me os one of the best on the album; "American Babylon" is a hot guitar driven rocker with biting riffs and a fantastic chorus.
"Kiss of Fire" nails it with the knockout punch at the end, a blazing smoker with powerful keyboards and guitar swirls that remind us of Mr. Big. Hot!
The bonus track on this Axe Killer reissue is the radio version of 'Can't Find My Way Home', not only edited but also remixed, different.
Indeed, HOUSE OF LORDS' "Sahara" is polished, bright, a shining melodic hard rock diamond plenty of punchy but crystal clear songs.
This out of print Axe Killer remaster adds the right depth for modern audio players, dynamic, vital in its output.
A Must Have
01 – Shoot
02 – Chains Of Love
03 – Can't Find My Way Home
04 – Heart On The Line
05 – Laydown Staydown
06 – Sahara
07 – It Ain't Love
08 – Remember My Name
09 – American Babylon
10 – Kiss Of Fire
BONUS TRACK:
11 – Can't Find My Way Home (Radio Version Remix)
James Christian – lead vocals, additional guitars
Gregg Giuffria – keyboards, backing vocals
Michael Guy – guitars, backing vocals
Chuck Wright – bass, backing vocals
Ken Mary – drums, percussion
additional musicians:
Doug Aldrich (Lion, Whitesnake) – guitars, backing vocals
Rick Nielsen (Cheap Trick) – lead guitar, backing vocals on 4
Chris Impellitteri – opening guitar solo on 6
Mandy Meyer – guitar
Mike Tramp (White Lion) – backing vocals
Robin Zander (Cheap Trick) – backing vocals on 4
David Glen Eisley (Giuffria) – backing vocals
Steve Plunkett (Autograph) – backing vocals
Ron Keel (Keel) – backing vocals
Steve Isham – backing vocals
S.S. Priest – backing vocals
Billy Dior – backing vocals
Robbie Snow – backing vocals
OUT OF PRINT:
www.amazon.de/Sahara-House-Lords-2008-06-03/dp/B01K8NGIX6
.