KNIGHTS REIGN – Knights Reign [remastered +5] (2019)
Originally appeared via a small indie label in 1994, the self-titled debut from Texans KNIGHTS REIGN has been reissued, remastered and including 5 previously unreleased tracks. According the sticker on the "Knights Reign [remastered +5]" jewel case, this is is a 'cult progressive AOR / Hard Rock gem for fans of Journey, Giuffria, Stangeways and Frontline'…
While the quality of these acts are hard to achieve, Knights Reign does a very good job both in songwriting / arrangements akin these famous bands.
Knights Reign were formed in the early Nineties by the local scene experienced musicians: ex-Lix members Tony Marsh (guitar) and Mike Reiner (drums) joined forces with vocalist Tim King, previously of Baltic Avenue. Tim then recruited T.J. Ostrander on keyboards, and the quartet located bassist Jason Rasberry through a local friend who owned an area music store.
The quintet quickly developed a uniquely progressive sound centered predominantly around hard-hitting guitars, classic keyboards / synths, and full-band vocal harmonies, drawing influences from all sorts of hard rock and metal, and even characteristics of blues or funk.
A catalog of songs were crafted over the course of about one year during the early-'90s and recorded in a temporary studio set up in Reiner's home. The result was a self-recorded, self-produced, and self-released 12-song CD issued through Perisphere Records in 1994.
Indeed there's some serious Journey influences in "Knights Reign [remastered +5]", just check out the midtempo AOR of 'The Other Side' and its keyboard arrangements. One of my favorites.
The Giuffria comparison appears in the synth-driven melodic rocker 'Goodbye' or the soaring 'Get Tough', with some House Of Lords in it as well. We find as well a proggy feel on some tunes – 'Rain' as example – yet always melodic rock focused.
However, at places, Knights Reign rocks quite hard, such as on 'No Time To Cry', where the guitar work is reminiscent of Vito Bratta's White Lion, or the heavier 'Moonburn' and 'Rest Of My Life' (with a killer guitar solo).
For ballads, there's avery interesting number on 'On My Way' (Journey meets Two Fires), plenty of sweet vocals, harmonies, keys and a heavenly chorus. another fav of mine.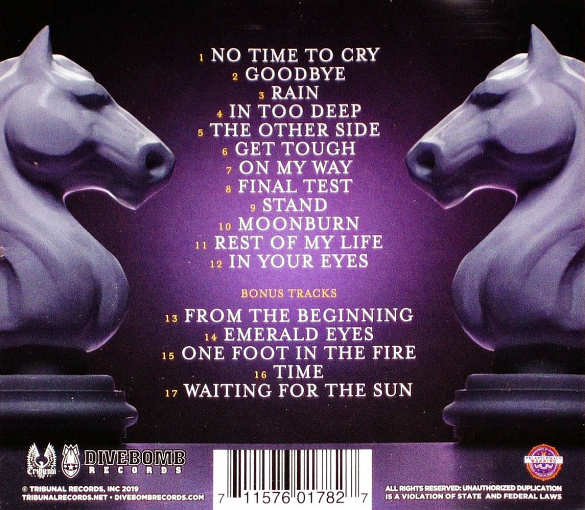 Knights Reign started writing and demoing songs intended for a second album through the latter part of the decade, and these are the bonus tracks included here. Among these, the keyboard driven 'Emerald Eyes' is among the best, also displaying the band's love for multi-part vocal harmonies.
While that material displayed a more mature and focused approach, being located in an area with little to no opportunities for higher-profile live performances, the group simply ran its course and drew to an end.
Their lone 1994 self-titled CD has since become an extremely rare collector's item, having only been sold directly by the band, and never re-pressed.
Over two decades later, "Knights Reign [remastered +5]" sees its reissue including five previously unreleased bonus tracks culled from demos for the incomplete second album, all remastered by Jamie King at The Basement Recording.
A really fine slice of elaborated AOR / melodic hard rock for collectors and fans of the genre.
Highly Recommended
01 – No Time To Cry
02 – Goodbye
03 – Rain
04 – In Too Deep
05 – The Other Side
06 – Get Tough
07 – On My Way
08 – Final Test
09 – Stand
10 – Moonburn
11 – Rest Of My Life
12 – In Your Eyes
BONUS TRACKS:
13 – From The Beginning
14 – Emerald Eyes
15 – One Foot In The Fire
16 – Time
17 – Waiting For The Sun
Tim King – lead and background vocals
Tony Marsh – guitar, background vocals
T.J. Ostrander – keyboards, background vocals
Jason Rasberry – bass, background vocals
Mike Reinert – drums, background vocals
John Bedinghaus – bass (bonus tracks)
BUY IT !
www.amazon.com/Knights-Reign-deluxe/dp/B07NRH6PPC/
.