INTELLIGENT MUSIC PROJECT IV – Sorcery Inside (2019) *EXCLUSIVE*
Bulgarian composer Milen Vrabevski and drumming ace Simon Phillips assemble an A-list team for the fourth outing under INTELLIGENT MUSIC PROJECT IV, titled "Sorcery Inside". The vocalists taking part include Toto's Joseph Williams and ex-Asia belter John Payne, which gives a good indication of the musical direction. "Sorcery Inside" delivers ultraslick AOR, buffed to an immaculate, glimmering sheen and full of lighters-in-the-air moments.
Intelligent Music Project IV showcases the chemistry and the versatile style of all previous IMP projects: rich and layered, guitar-centric, melodic-progressive and AOR sound.
The magic comes from the hands-on experience of top-notch experts who have teamed up with Milen Vrabevski MD, for quite some time already. Catchy tunes and dynamic riffs fuse flawlessly with the trademark vocals of Carl Sentance (Nazareth), Richard Grisman (River Hounds), John Payne (ex-Asia) and Joseph Williams (Toto), while the band assembled by Simon Phillips (drums and percussion) leaves their mark on the record all the way through.
Upon receiving another invitation and demo from Vrabevski, Phillips formed an LA band to start recording at Brotheryn Studio in California: him and Earnest Tibbs (rhythm section) + Jesse Siebenberg (guitars, steel guitar, vocals) and Dave Palmer (keys).
At the same time in Sofia, an impressive band led by Ivo Stefanov (Milen's right-hand man and musical co-producer of the album) did the rest.
Bursting out with "Yesterdays That Mattered", the song is a vivid rock hit, seamlessly blending the exceptional, illustrative singing of the Williams-Sentance duet with a tasteful instrumental.
Then comes "Every Morning": a melodic, rocking piece, propelled by majestic synths & guitar riffs plus Richard Grisman / Joseph Williams gently hitting vocals, backed by uncompromising guitar virtuosity. The best guitar solo of the album.
Grisman (frontman of River Hounds) is the newbie in the roster, joining Nazareth's Carl Sentance on "Life To Linger", a track that could have come from the soundtrack of an '80s action movie.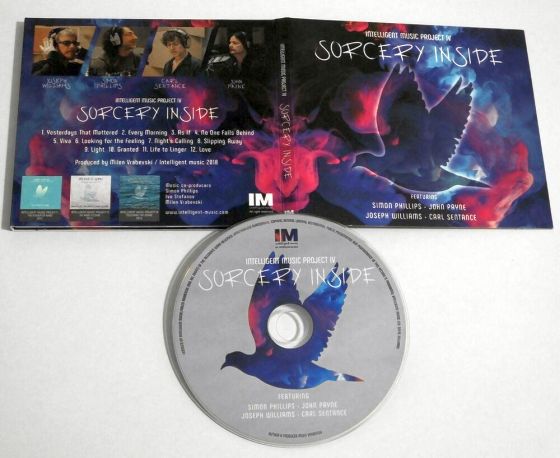 As if has a chorus designed for both clapping and singing along, "Looking For The Feeling" is an energetic rocker wity a proggy Asia feel, and there's a wicked guitar solo. "Slipping Away" features a duet between Payne and Williams in a meeting of smooth rock titans.
Expanding the palette beyond AOR, 'Viva' brings in a Spanish flamenco vibe, and 'Granted' has a cheery Balkan folk tinge with acoustic guitars.
The Intelligent Music Project goes back to the golden era of AOR from the 80s, mixing some lite prog with hard rocking guitars, catchy hooks, and steady drum beats, all done with class and a pristine production sound.
Fans of Toto, Asia, Alan Parsons, GTR, World Trade, etc will love this 4th Intelligent Music Project installment.
Highly Recommended
Only at 0dayrox
01 – Yesterdays That Mattered
02 – Every Morning
03 – As If
04 – NoOne Falls Behind
05 – Viva
06 – Looking For The Feeling
07 – Night's Calling
08 – Slipping Away
09 – Light
10 – Granted
11 – Life Lingers
12 – Love
John Payne – Vocals
Joseph Williams – Vocals
Carl Sentance – Vocals
Richard Grisman – Vocals
Simon Phillips – Drums, Percussion
Earnest Tibbs – Bass
Jesse Siebenberg – Guitars
Dave Palmer – Keyboards
Ivo Zvezdomirov – Bass
Bisser Ivanov – Guitars, Mandolin
Bobby Kosatka – Backing Vocals, Ad Libs
Lina Nikol – Backing Vocals, Ad Libs
Vlado Djambazov – Orchestra Conductor
Sofia Gospel Choir – Conducted by Geri Balevska
Steven Archikor – Soloist
BUY IT !
intelligent-music.com/product/intelligent-music-project-iv-sorcery-inside/