AVIARY – Ambition [The Remastered Lost Tapes] out of print
This another request that perfectly complements the previous AVIARY post: "Ambition" [The Remastered Lost Tapes]. "Ambition" includes all the material recorded by the band previously and after their major label self-titled debut.
In fact, this is some kind of an 'unreleased album' because these tracks were professionally recorded to be part of the band's second LP that it never was…
The band (still active) decided to dig out of the vaults and release by themselves (AV Records) this CD under the title "Ambition", a collection of previously unreleased material. This album bridges Aviary's initial times in Washington to Los Angeles, when they recorded their first LP "Aviary".
On most this material, Aviary carried over the distinctive, multi-layered harmonies and melodies that dripped all over their amazing debut, but added a lot more complex instrumentation and heaping amounts of vintage keyboard / analog synth sounds.
All of the songs on "Ambition" were recorded between 1977-1979, with the exception of "Eva's Birthday", which was recorded before Aviary's debut back in 1975. That song is actually a bit different sounding than most of the other tunes in this set, combining a bit of Frank Zappa and The Beatles for a rather humorous but intriguing little ditty.
But the rest of the material is pure Aviary, pure Pomp Rock.
"Hello" could have easily come off the debut, a vibrant, upbeat symphonic tune with Brad Love's cheery vocals leading the way like a cross between Jeff Lynne and Freddie Mercury.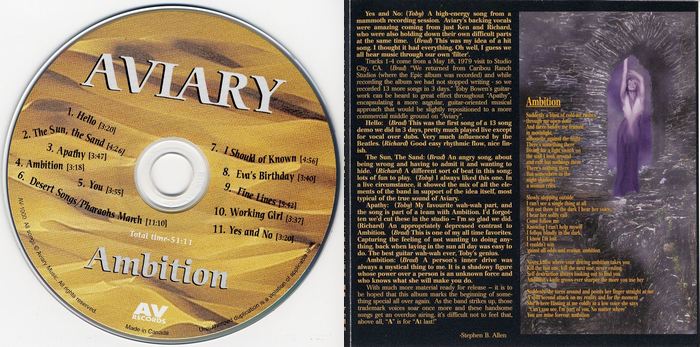 The epic tour-de-force "Desert Songs / Pharaohs March" will delight any fan of the genre, alternating between majestic keyboard led melodicism and raging guitar/organ proggy duels. Love's shrieking vocals cover a wide spectrum, and the intricate guitar work of Toby Gowen and Paul Madden's vintage keyboard work bring to mind classic Deep Purple or Uriah Heep.
Dazzling Moog synthesizer lines from Madden team up with booming bass work from Ken Steimonts to give a strong ELP feel on "Working Girl", and the band combines soaring harmonies with intricate intensity on the rocking "Yes and No."
Title track "Ambition" has an upbeat feeling ala Queen. When I say Queen I refer to their early days of course. It's one of the best songs here, a one that consists of many theme changes, versatility and fantasy. A highlight.
Keyboard lovers will drool after hearing the generous amounts of Mellotron, Hammond and analog synths on the bubbly "The Sun, The Sand", complete with terrific vocal harmonies.
So-called compilations of previously unreleased materials are usually of interest to completists only, but Aviary's "Ambition" is another story altogether and deserves a real send-off.
In fact, this is mostly a finished album that never was released. It is rather evident that the band tried to become more "ambitious", ahead of its time with these songs, which perhaps scared Epic Records and were shelved.
This is another compelling and gorgeous release from a band that should have been huge. It's all here folks: incredible vocals / multi-part harmonies, loads of intense instrumentation, and drop-dead perfect melodies.
While the debut probably gets the edge as far as craftier melodies goes (not that this is lacking mind you), "Ambition" gets a slight nod as being more of what a progressive rock fan might want to hear.
Every song is a gem in this collection, mixing poppy hooks, hard rock and intelligent proggy rock.
Aviary's "Ambition" is highly, highly recommended for all.
01 – Hello
02 – The Sun, The Sand
03 – Apathy
04 – Ambition
05 – You
06 – Desert Songs – Pharaohs March
07 – I Should Of Known
08 – Eva's Birthday
09 – Fine Lines
10 – Working Girl
11 – Yes And No
Brad Love – lead vocals, piano
Paul Madden – keyboards, synths, mellotron
Ken Steimonts – Rickenbacker bass, vocals
Richard Bryans – drums, vocals
Toby Bowen – guitar
Tony Dart – drums (on Eva's Birthday)
Try here:
www.amazon.co.uk/Ambition-Aviary-2003-01-01/dp/B01AXMC07U