ROCK 'N' ROLL REBELS & THE SUNSET STRIP [Eonian Records 4-CD Set of previously unreleased music]
Eonian Records is a label that has been re-discovering forgotten melodic hard rock bands over the years. Their releases are quite sparse, but always interesting. As requested, here's their mammoth 4-disc Box Set collection entitled "Rock 'n' Roll Rebels & The Sunset Strip".
The collection features the third and final wave of LA Sunset Strip bands, the most competitive market for rock 'n' roll that had ever existed. All started in the late Seventies / early Eighties with Van Halen and Quiet Riot, then the second wave with Dokken, Motley Crue, Ratt and a lot of successful acts.
But many talented groups arrived at the end of the '80s – the 3rd wave – too late to get a record contract. These are what "Rock 'n' Roll Rebels & The Sunset Strip" rescue from oblivion: a collection of rare gems from obscure 80's / 90's era glam / hard rock / hair metal bands, that unless you were a part of the scene back then, likely have never heard of.
This 4-disc set chronicles such bands with names like Rough Justice, Rattlesnake Shake, Hans Naughty, Enticier, Lypswitch, and Hap Hazzard. Some bands had a full album release by Eonian, but most of these not.
Much like happens with every music genre, this collection runs the gamut of some really impressive classics to a few clunkers. But all are interesting to hear, even the songs we didn't love entirely result enjoyable, a document from the era.
The bands we felt offered the most are Bad Bones, Scratch, Cyclone Sound, LongGone, Blackboard Jungle, The Wild and Byte the Bullet. Not exactly household names but you will recognize a few names along the way, some of whom went on to join other bands that have had various degrees of success.
Names such as Dizzy Reed and Ralph Saenz will certainly be familiar with fans of Guns N' Roses and Steel Panther, and some of their earliest recordings are going to be found here in this "Rock 'n' Roll Rebels & The Sunset Strip".
We think the 'magical find' on this collection is found on disc four with the two tracks from Byte The Bullet who went onto become Southgang, who had two of what we like to think are some of the better albums from the early '90s in this genre.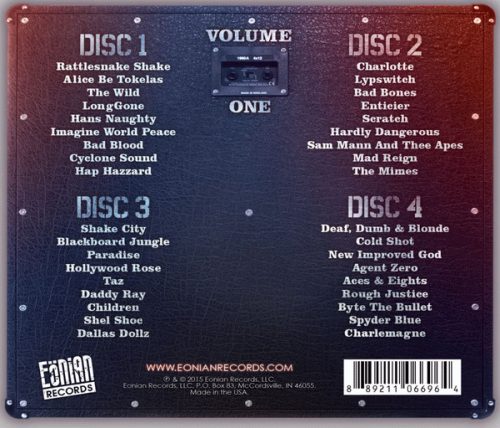 Eonian Records has done a bang up job compiling this entertaining collection, giving the listener a great showcase of the late '80s US hard rock scene. We found each of those bands to exemplify the best of what the Sunset Strip had to offer of the lesser known and/or forgotten bands of that era.
Whether it is catchy songs, strong performances, or just something about the attitude in their delivery, this is a really enjoyable 4-disc box to treasure chest.
Highly Recommended
Disc One
01 – Rattlesnake Shake – Shootin' Daggers
02 – Rattlesnake Shake – Get Around (Everybody Needs Somebody)
03 – Alice Be Tokelas – In the Morning
04 – Alice Be Tokelas – This Is Now
05 – The Wild – Get Down 2 Night
06 – The Wild – Some Girls
07 – LongGone – Higher
08 – LongGone – Sticky Situation
09 – Hans Naughty – Fallen Nature
10 – Hans Naughty – Be In You
11 – Imagine World Peace – Something I Miss
12 – Imagine World Peace – Sometimes
13 – Bad Blood – Slip
14 – Bad Blood – Sweet Addiction
15 – Cyclone Sound – City Monsters
16 – Cyclone Sound – All Systems
17 – Hap Hazzard – Sorry
18 – Hap Hazzard – Under Fire
Disc Two
01 – Charlotte – Little Devils
02 – Charlotte – Krackerman
03 – Lypswitch – Sexx On the Sun
04 – Lypswitch – She's so Psychedelic
05 – Bad Bones – My Love Is for Real
06 – Bad Bones – Give Good Love
07 – Enticier – Daddy's Little Girl
08 – Enticier – One Way Ticket
09 – Scratch – Merry Go Round
10 – Scratch – Smack Dab
11 – Hardly Dangerous – Sweeter Than Honey
12 – Hardly Dangerous – Game of Love
13 – Sam Mann and Thee Apes – Feel My Body
14 – Sam Mann and Thee Apes – Nasty Woman
15 – Mad Reign – Rise
16 – Mad Reign – The First One's Free
17 – The Mimes – Crack Alley
18 – The Mimes – Kick, Kick (Scratch and Fight)
Disc Three
01 – Shake City – Betty Blue
02 – Shake City – She's Atomic (Hot Wheelz)
03 – Blackboard Jungle – Paint You a Picture
04 – Blackboard Jungle – Chicago
05 – Paradise – Satisfaction Guaranteed
06 – Paradise – I'm in Love With You
07 – Hollywood Rose – Sweet Little Angel
08 – Hollywood Rose – Come a Little Closer
09 – Taz – Day of the Dog
10 – Taz – Dogtown
11 – Daddy Ray – Success
12 – Daddy Ray – Nag, Nag, Nag
13 – Children – Dance With Me
14 – Children – Water Into Wine
15 – Shel Shoc – Lotta Love
16 – Shel Shoc – Pull the Trigger
17 – Dallas Dollz – Dirty Money
18 – Dallas Dollz – Doin' Time
Disc Four
01 – Deaf, Dumb and Blonde – Heaven's Trail
02 – Deaf, Dumb and Blonde – Down and Dirty
03 – Cold Shot – Give Me What I Need
04 – Cold Shot – Little Too Late
05 – New Improved God – Back Where You Belong
06 – New Improved God – Dead Rock Stars
07 – Agent Zero – Shadows
08 – Agent Zero – Distant Memories
09 – Aces & Eights – Read My Lips
10 – Aces & Eights – You Ain't My Religion
11 – Rough Justice – Cheap Disguise
12 – Rough Justice – Good Ole' Days
13 – Byte the Bullet – Let' Em Down Easy
14 – Byte the Bullet – Russian Roulette
15 – Spyder Blue – Dummy Says
16 – Spyder Blue – Love Lies and Hate
17 – Charlemagne – You're All I Need
18 – Charlemagne – Who Needs Bad Girls
BUY
eonianrecords.com/new-products/rock-n-roll-rebels-the-sunset-strip-volume-1