STYX – The Grand Illusion [Japanese remaster SHM-CD Limited Edition]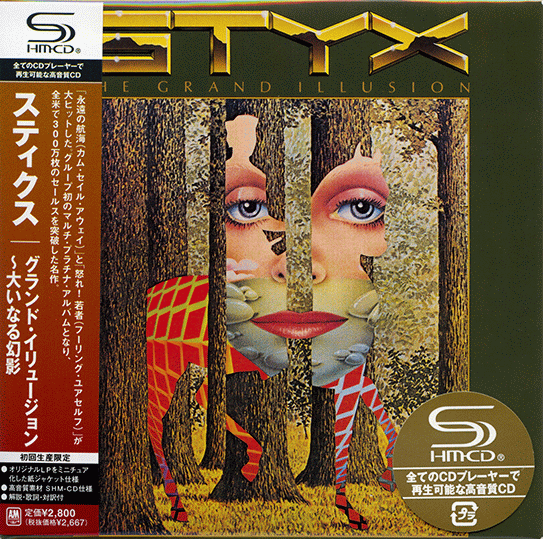 *
Someone asked for the quality of the Japanese nine-album cardboard sleeve (mini LP) reissue series of STYX on high quality SHM-CD. In one word; outstanding.
All were released a couple years ago, but it was a Limited Edition and already turned out of print.
These really worth a revisit as all are essential STYX albums – Let's go with "The Grand Illusion".
This reissue campaign starts with Styx's releases for A&M Records, being "The Grand Illusion" the 3rd.
It launched the band to stardom, spawning the hit singles "Come Sail Away" and "Fooling Yourself", and selling over three million copies in the US.
Typically, the music on "The Grand Illusion" is fantastic. It's ambitious, emotive, pretty bombastic and polished. Everything from ripping guitar solos, to fever dream keyboards, to fantastic synthesized soundscapes make up the crux of The Grand Illusion's sound.
The terrific first side contains all the radio and chart hits, with a much elaborated second side including songs like "Miss America", "Man in the Wilderness" and "Castle Walls", all very well-written and explorative.
The album showed the great potential of Styx as a sort of 'prog lite' outfit with much more rock&pop / melodic rock crossover appeal than their earlier work.
This would be a template set for many acts, who followed suit in subsequent years and through the '80s.
Thematically, the concept of "The Grand Illusion" examines the futility of solely aspiring to fame. According to DeYoung, it is about the struggle to overcome self-deluding superficiality in order to affirm one's genuine value, as heard on the title track.
"The Grand Illusion" made Styx big and popular showing their skills for crafting simple, catchy melodic rock hooks out of their bombastic lite prog sound.
These Japanese cardboard sleeve (mini LP) reissues of STYX on SHM-CD sound awesome.
A Must Have.
Universal Japan ~ | SHM-CD | UICY-93921
01 – The Grand Illusion
02 – Fooling Yourself (The Angry Young Man)
03 – Superstars
04 – Come Sail Away
05 – Miss America
06 – Man in the Wilderness
07 – Castle Walls
08 – The Grand Finale
Dennis DeYoung – keyboards, synthesizers, vocals
Chuck Panozzo – bass, vocals
John Panozzo – drums, vocals
Tommy Shaw – acoustic and electric guitars, vocals
James Young – guitar, keyboards, vocals
Try Here:
www.cdjapan.co.jp/product/UICY-93921
.